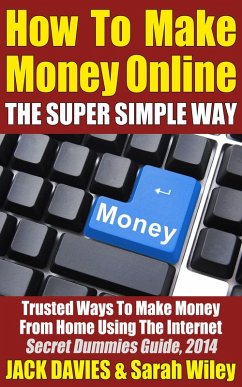 Geräte: eReader

mit Kopierschutz

Größe: 5.34MB

FamilySharing(5)
If you're looking for a get rich quick scheme; sorry, this isn't it.
This 35,000-word Kindle eBook will show you how to create a steady, online income, working from home - or using the coffee shop's free broadband. It explains everything you need to know, from practically foolproof keyword research to product creation, and website flipping.
I'll show you how to find products people already want to buy, and how to reach thousands of potential buyers.
Along the way, I'll teach you important web skills, such as how to build a website, and the latest Search Engine Optimization techniques. Includes the latest Google Hummingbird and Panda 4.0 update.
Is This A Brand New Business Plan?
In a way. Although some of the methods I'm teaching crop up in other methods, my business plan is based on up-to-date innovations and differs from standard models in many key ways.
Everything is totally "white hat", legal and above board. In fact, Google would certainly approve everything we do!
Part of my technique is to show you how to give Google exactly what it wants so that it is forced to reward your websites with #1 spots in the search engine rankings.
I'm careful not to make false claims.
You're unlikely to be making $10,000 a month within a few weeks, but a regular monthly income of $2,500-$5,000+ is within your reach.
Once the system is set-up and running, very little work is needed: that's what i call a passive income!
Is This The Best Way To Earn Money Online?
Yes. My main method explores affiliate marketing from a new angle. I also demonstrate how you can easily create your own products, and teach you all you need to know about AdSense, Site Flipping and Local SEO.
Who Am I?
My name is Jack Davies, and I've been earning money online for over 20 years. Not every business I've started has been successful, but I've learned from my mistakes and I can help you avoid the same pitfalls.
I now spend most of my time teaching WordPress to students in London, and Search Engine Optimization to web professionals.
Don't Wait!
How To Make Money Online (The Super Simple Way) is essential reading for anyone who wants to build an online business to generate income 24-7. Get it now and start working towards your new life…
This is the basic reference guide for anyone wanting…
• An online career working from home
• An affiliate income to make money from home
• To make money with an online career
• To know how to make money from home
• The inside skinny on getting paid to work from home
• Help making a real income online
• A regular affiliate income
• A home business that will make money online
• To find out how to make extra money online
• Wants help starting a business from home.
---
Dieser Download kann aus rechtlichen Gründen nur mit Rechnungsadresse in A, B, CY, CZ, D, DK, EW, E, FIN, F, GR, H, IRL, I, LT, L, LR, M, NL, PL, P, R, S, SLO, SK ausgeliefert werden.