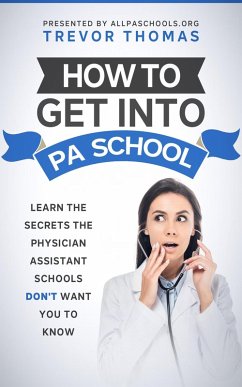 Geräte: eReader

mit Kopierschutz

Größe: 0.28MB

FamilySharing(5)
Finally! An Admissions Guide That Will Give You the Edge You Need!
Hi, my name is Trevor Thomas. I have an extensive amount of experience in the medical industry, including medical school interviews. In recent years the PA profession has exploded, being listed as the best job in America multiple years in a row. After looking online I noticed there were
very few
guides available to help students with the process, and the guides that were available just put sunshine into students butts. Advice such as "try hard" and "you'll do great" make for great motivation, but not practical advice!
I'm here today to cut through the BS. Getting into PA school is hard, but with the inside secrets I share in this book, you will have a much better chance of getting an interview
and
getting accepted!
Here's What You'll Learn in This Book...
● Part 1 - First we go over the history of the PA profession, and why the PA profession is expected to grow even more over the coming years. We also go over a website called AllPAschools dot org, which contains detailed admissions information for all PA schools.
● Part 2 - Next we go over the classes and grades PA schools are looking for in their students. This includes the best major to choose, the minimum GPA you need in order to have a chance of getting an interview, and the required and preferred classes PA schools are looking for.
I reveal the ideal institution to take your classes to obtain the highest grades, ways to boost your grade point average, and exactly what PA schools are looking for on your application.
● Part 3 - After that, we go over the GRE, MCAT, & CASper exams, detailing the best one to choose when given the choice by PA schools. Also included is the best study guides for these exams, where to find tutors, & what the CASper exam
is actually
looking for from test takers.
● Part 4 - Here we go over how to gain work, volunteer, and shadowing hours to give you a more well rounded application. This includes how to find medical providers who will allow you to shadow, as well as the types of jobs and volunteer experience PA schools want you to have.
● Part 5 - This section goes into great detail on the application process, showing you what to put into each section of the CASPA application with detailed text and pictures. It goes over where to get reference letters, how to craft your personal statement, and an excellent free website you can use to add a polished resume to your application.
Don't Have a Great GPA? I show you how to filter your selection to the programs that will provide you the highest chance of acceptance!
● Part 6 - Last but not least, I show you what to expect on the day of your PA interview. This includes how to dress and prepare, questions you'll likely receive, and why you need to be careful what you say and who you talk to once you arrive.
If you want to have a chance of getting into PA school, you can't risk not knowing information! Learn How to Get Into PA School Now!
---
Dieser Download kann aus rechtlichen Gründen nur mit Rechnungsadresse in A, B, CY, CZ, D, DK, EW, E, FIN, F, GR, H, IRL, I, LT, L, LR, M, NL, PL, P, R, S, SLO, SK ausgeliefert werden.