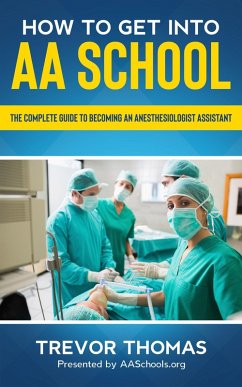 Geräte: eReader

mit Kopierschutz

Größe: 0.51MB

FamilySharing(5)
Learn the Little Known Secrets AA Schools Won't Tell You!
▬▬▬▬▬▬▬▬▬▬▬▬▬
Hi, my name is Trevor Thomas. I have an extensive amount of experience in the medical industry, including medical school interviews. After seeing the boom in the AA profession, but no help for students, I decided to come out with a book that provides students all the information they need to have the best chance of getting into Anesthesiologist Assistant school!
Here's What You'll Learn in This Book... ━━━━━━━▼━━━━━━━
• Part 1: Introduction - First we go over the history of the AA profession, what states currently allow AAs to practice, and the schools currently accepting applicants. We also go over the income and job prospects for new AAs, as well as a website called AAschools dot org, which contains detailed admissions information for all AA schools.
• Part 2: Schooling and Grades - Next we go over the classes and grades AA schools are looking for in their students. This includes the best major to choose, the minimum GPA you need to have a chance of getting an interview, and the required and preferred classes AA schools are looking for. You'll find out the ideal institution to take your classes to obtain the highest grades, as well as how to give yourself the best chance of getting into AA school even if you don't have a great GPA.
• Part 3: The GRE & MCAT - After that, we go over both the GRE and MCAT, detailing the best exam to choose when given the choice by AA schools. The CASper exam is also covered in this section.
• Part 4: Work, Volunteer, & Shadowing Hours - Then we go over how to gain work, volunteer, and shadowing hours to obtain a more well rounded application. This includes how to find anesthesia providers who will allow you to shadow, as well as the types of jobs and volunteer experience AA schools are looking for.
• Part 5: The Application Process - This section goes into great detail on the application process, showing you what and how to put into each section of the CASAA application with detailed text and pictures. It also goes over where to get reference letters, how to craft your personal statement, and an excellent free website you can use to add a polished resume to your application.
• Part 6: The Interview - When the time comes you need to know how to handle the interview. Unlike what AA schools tell students, there
are
right and wrong ways to answer the interview questions. This section goes over what students can expect during the interview process, the most common questions you will be asked during your AA interview, and how to improve your interviews skills to give you the best chance of getting an acceptance letter.
▬▬▬▬▬▬▬▬▬▬▬▬▬ As a complimentary bonus, you'll receive the
Complete AA school Checklist
. CASAA provides no refunds to students, and your CASAA application is not editable after it has been processed. For this reason, you need to make sure your application is complete before hitting that submit button. This checklist form does just that, outlining everything you need to include in CASAA when applying to AA schools. This checklist is not available to the general public, and only available to buyers of this book. ▬▬▬▬▬▬▬▬▬▬▬▬▬
If you want give yourself the best chance of getting in AA school, you can't risk not knowing this information!
Press the "Buy Now" button at the top of the page and pick up How to Get Into AA School right now!
---
Dieser Download kann aus rechtlichen Gründen nur mit Rechnungsadresse in A, B, CY, CZ, D, DK, EW, E, FIN, F, GR, H, IRL, I, LT, L, LR, M, NL, PL, P, R, S, SLO, SK ausgeliefert werden.