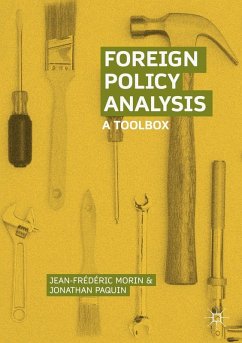 Andere Kunden interessierten sich
auch
für
This book presents the evolution of the field of foreign policy analysis and explains the theories that have structured research in this area over the last 50 years. It provides the essentials of emerging theoretical trends, data and methodological pitfalls and major case-studies and is designed to be a key entry point for graduate students, upper-level undergraduates and scholars into the discipline. The volume features an eclectic panorama of different conceptual, theoretical and methodological approaches to foreign political analysis, focusing on different models of analysis such as two-level game analysis, bureaucratic politics, strategic culture, cybernetics, poliheuristic analysis, cognitive mapping, gender studies, groupthink and the systemic sources of foreign policy. The authors also clarify conceptual notions such as doctrines, ideologies and national interest, through the lenses of foreign policy analysis.
---
Dieser Download kann aus rechtlichen Gründen nur mit Rechnungsadresse in A, B, BG, CY, CZ, D, DK, EW, E, FIN, F, GR, HR, H, IRL, I, LT, L, LR, M, NL, PL, P, R, S, SLO, SK ausgeliefert werden.
Produktdetails
Verlag: Springer-Verlag GmbH
Seitenzahl: 359
Erscheinungstermin: 03.01.2018
Englisch
ISBN-13: 9783319610030
Artikelnr.: 52995705
Es gelten unsere Allgemeinen Geschäftsbedingungen: www.buecher.de/agb
Impressum
www.buecher.de ist ein Shop der
buecher.de GmbH & Co. KG
Bürgermeister-Wegele-Str. 12,
86167 Augsburg
Amtsgericht Augsburg HRA 13309
Persönlich haftender Gesellschafter: buecher.de Verwaltungs GmbH
Amtsgericht Augsburg HRB 16890

Vertretungsberechtigte:
Günter Hilger, Geschäftsführer
Clemens Todd, Geschäftsführer

Sitz der Gesellschaft:Augsburg
Ust-IdNr. DE 204210010
---
Bitte wählen Sie Ihr Anliegen aus.