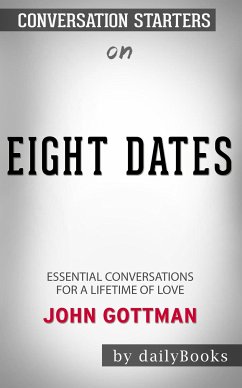 Geräte: eReader

ohne Kopierschutz

Größe: 0.18MB
Eight Dates: Essential Conversations for a Lifetime of Love by John Gottman: Conversation Starters

'Eight Dates: Essential Conversations for a lifetime of love' is written by renowned relationship experts, couple John Gottman and Julie Schwarz Gottman. The book has been co-authored with the help of yet another couple, Doug Abrams and Rachel Carlton Abrams. The book has been hailed as a must-have guide for people in a relationship by readers.
The book gives practical advice to couples, heterosexual and homosexual, to strengthen the relationship with their respective partners and urges them to talk on some easy and not so secure topics. The book is backed by scientific and research data conducted by the authors themselves in addition to noted psychologists worldwide. 

A Brief Look Inside: 
 
EVERY GOOD BOOK CONTAINS A WORLD FAR DEEPER
than the surface of its pages. The characters and their world come alive, 
and the characters and its world still live on. 
Conversation Starters is peppered with questions designed to
bring us beneath the surface of the page
and invite us into the world that lives on. 
 
These questions can be used to create hours of conversation:
 
• Foster a deeper understanding of the book
• Promote an atmosphere of discussion for groups
• Assist in the study of the book, either individually or corporately
• Explore unseen realms of the book as never seen before
 
Disclaimer: This book you are about to enjoy is an independent resource to supplement the original book, enhancing your experience. If you have not yet purchased a copy of the original book, please do before purchasing this unofficial Conversation Starters.
 
Download your copy now on sale
Read it on your PC, Mac, iOS or Android smartphone, tablet devices.