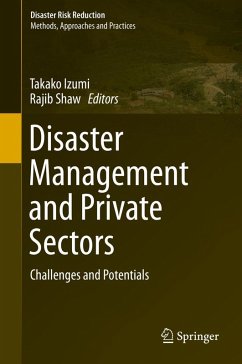 Geräte: PC

ohne Kopierschutz

Größe: 9.01MB
Andere Kunden interessierten sich
auch
für
The private sector is becoming more active in disaster management and plays an important role in distributing relief items and sending search and rescue teams in the response phase. However, once the response stage is over, private sector involvement tends to fade. While a number of disaster risk reduction (DRR) initiatives by the private sector are documented, they remain limited. The private sector can contribute enormously to DRR by developing business continuity plans, innovating technology for early warning systems, and providing and sharing technical knowledge, skills, and resources in the field of disaster preparedness. To strengthen DRR capacity, it is crucial to involve the private sector as major actors in DRR.
The primary target groups for this book are students and researchers in the fields of disaster management and DRR studies. Another target group comprises practitioners and policy makers, who will be able to apply the collective knowledge from this work to policy and decision making. The book provides an overview of the current research trends and furnishes basic knowledge on this important topic.
---
Dieser Download kann aus rechtlichen Gründen nur mit Rechnungsadresse in A, B, BG, CY, CZ, D, DK, EW, E, FIN, F, GR, HR, H, IRL, I, LT, L, LR, M, NL, PL, P, R, S, SLO, SK ausgeliefert werden.