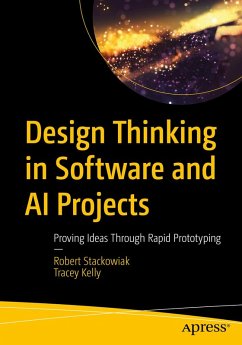 Learn the fundamentals of Design Thinking and how to apply Design Thinking techniques in defining software development and AI solutions. Design Thinking is an approach to innovation which identifies problems and generates solution ideas that can be rapidly proven through prototyping.
This book provides a brief history of Design Thinking and an overview of the process. It then drills down into more detail regarding methods and tools used in a Design Thinking workshops leading to useful prototypes. Guidance is provided on:
Preparing for a Design Thinking Workshop
Uncovering potential business problems that might be solved
Prioritizing potential solutions
Identifying and characterizing stakeholders
Choosing the right prototypes for development
Limiting scope and best practices in prototype building
The book concludes with a discussion of best practices in operationalizing successful prototypes, and describes change management techniques critical for successful adoption. You can use the knowledge gained from reading this book to incorporate Design Thinking techniques in your software development and AI projects, and assure timely and successful delivery of solutions.
What You Will Learn
Gain foundational knowledge of what Design Thinking is and when to apply the technique
Discover preparation and facilitation techniques used in workshops
Know how ideas are generated and then validated through prototyping
Understand implementation best practices, including change management considerations
Who This Book Is For
Business decision makers and project stakeholders as well as IT project owners who seek a method leading to fast development of successful software and AI prototypes demonstrating real business value. Also for data scientists, developers, and systems integrators who are interested in facilitating or utilizing Design Thinking workshops to drive momentum behind potential software development and AI projects.
---
Dieser Download kann aus rechtlichen Gründen nur mit Rechnungsadresse in A, B, BG, CY, CZ, D, DK, EW, E, FIN, F, GR, HR, H, IRL, I, LT, L, LR, M, NL, PL, P, R, S, SLO, SK ausgeliefert werden.
Produktdetails
Verlag: Springer-Verlag GmbH
Seitenzahl: 148
Erscheinungstermin: 29. August 2020
Englisch
ISBN-13: 9781484261538
Artikelnr.: 60067409