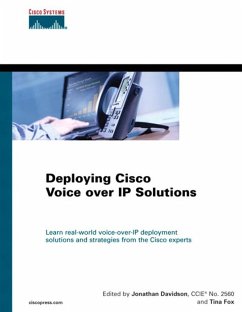 Geräte: PC

ohne Kopierschutz
Andere Kunden interessierten sich
auch
für
Learn real-world voice-over-IP deployment solutions and strategies from the Cisco experts
Deploying Cisco Voice over IP Solutions covers:
Definitive guidelines on real-world VoIP deployments, the fundamentals of the latest VoIP solutions, and a look into the future of VoIP services
Different techniques for engineering and properly sizing traffic-sensitive voice networks
Basic concepts applicable to echo analysis, echo cancellation, and locating and eliminating echoes
Various QoS features applicable to voice
Detailed information on call admission control (CAC)
Dial plan configuration recommendations on Cisco H.323 gateways and gatekeepers used to support large dial plans
Basic tasks of designing a long-distance VoIP network
The two classes of hosted voice networks: Managed Multiservice (MMS) networks and packet voice VPNs
Fax services store and forward as well as real-time relay fax services
Sample configurations and step-by-step examples to help you learn how to build a VoIP network
Deploying Cisco Voice over IP Solutions provides networking professionals the knowledge, advice, and insight necessary to design and deploy voice over IP (VoIP) networks that meet customers' needs for scalability, services, and security. Beginning with an introduction to the important preliminary design elements that need to be considered before implementing VoIP, Deploying Cisco Voice over IP Solutions also demonstrates the basic tasks involved in designing an effective service provider-based VoIP network. You'll conclude with design and implementation guidelines for some of the more popular and widely requested VoIP services, such as prepaid services, fax services, and virtual private networks (VPNs).
This book is a collaboration of Cisco Systems CCIE(r) engineers, technical marketing engineers, and systems engineers. You'll find design experience from people who have designed some of the world's largest VoIP networks.
---
Dieser Download kann aus rechtlichen Gründen nur mit Rechnungsadresse in A, B, BG, CY, CZ, D, DK, EW, E, FIN, F, GR, HR, H, IRL, I, LT, L, LR, M, NL, PL, P, R, S, SLO, SK ausgeliefert werden.