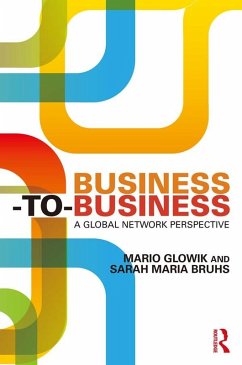 Andere Kunden interessierten sich
auch
für
The authors bring an authoritative, scholarly understanding to the subject, taking readers through the entire process of creating, developing and maintaining B2B networks. Case studies illustrating each chapter include: Apple, Panasonic, Johnson & Johnson, Epson and Samsung.
In providing a single and explicit established academic framework for understanding business networks in a global setting, this book is vital reading for students and researchers involved with international management, international marketing and strategic management.
---
Dieser Download kann aus rechtlichen Gründen nur mit Rechnungsadresse in A, B, BG, CY, CZ, D, DK, EW, E, FIN, F, GR, HR, H, IRL, I, LT, L, LR, M, NL, PL, P, R, S, SLO, SK ausgeliefert werden.
Produktdetails
Verlag: Taylor & Francis Ltd.
Seitenzahl: 314
Erscheinungstermin: 05.06.2014
Englisch
ISBN-13: 9781317807742
Artikelnr.: 41067741
Chapter 1: An introduction to Business-to-Business 1.1 Dynamics of the global business environment 1.1.1 Opportunities 1.1.2 Challenges 1.2 Understanding business-to-business as networks 1.2.1 Why a business-to-business focus in this book? 1.2.2 Strategic imparatives in a business-to-business context 1.2.3 A relationship perspective to business-to-business 1.3 The concept of business-to-business relationships 1.3.1 Relationship types 1.3.2 Interaction within relationships 1.4 Corporate social responsibility and business network relationships 1.5 Relationships, portfolios, and networks - defining the level of analysis Chapter 2: Characteristics of Business-to-Business Markets 2.1 The business-to-business product 2.2 Industrial buying behavior 2.3 Structural aspects of business-to-business markets 2.3.1 The business-to-business value chain 2.3.2Derived demand 2.3.3 Business market concentration 2.4 The buying and selling center as a part of global integrated value chains 2.4.1 The buying center 2.4.2 The selling center 2.5 Implications for management and marketing practice 2.6 Chapter Case: Supplier relationships of Apple Inc., USA Chapter 3: Developing Business Relationships 3.1 Trust and commitment as antecedents of relationship development 3.2 Value in business-to-business relationships 3.2.1 Value dimensions 3.2.2 Value as the fulfillment of relationship functions 3.2.3 Value perceptions 3.2.4 Joint value creation and the service-dominant logic 3.3 Building business-to-business relationships as a portfolio strategy 3.4 Chapter Case: IPS Alpha Technology (Japan) - building relationships of trust and commitment over time Chapter 4: Analyzing Business-to-Business Industry Networks 4.1 Positioning in business-to-business networks 4.2 Network terms, variables, and relationship interdependencies 4.3 Network properties and structural characteristics of networks 4.3.1 Relationship intensity 4.3.2Relationship reciprocity 4.3.3 Clarity of expectations from the actors' relationship 4.3.4 Multiplicity and multiplexity of relationships 4.3.5 Structural characteristics 4.4 Network centrality, eigenvector, betweenness, and closeness centrality 4.5 Global business-to-business networks: Implications for the management 4.6 Chapter Case: A network analysis of the global solar photovoltaic industry Chapter 5: Networks and Innovation 5.1 The innovation process 5.2 Firm-specific resources and capabilities 5.3 Capabilities for innovation 5.3.1 Idea generation capability 5.3.2 New product and process development capability 5.3.3 Technological capability 5.3.4 Market capability 5.4 Cooperative innovation in networks 5.4.1 Why firms use external sources of innovation 5.4.2 Knowledge transfer between network partners 5.4.3 Inter-organizational learning for innovation 5.4.4 The effect of network configuration on firm innovativeness 5.5 Chapter Case: Johnson & Johnson (USA) and the network-based accumulation of technological knowledge Chapter 6: Networks and International Market Entry 6.1 Uncertainty and market entry 6.2 Contractual arrangements related to foreign market entry 6.2.1 Export 6.2.2 Licensing 6.2.3 Franchising 6.2.4 Contract manufacturing 6.3 Market entry through cooperation 6.3.1 International joint venture 6.3.2 Absorptive capacity 6.4 Market entry through foreign direct investment 6.5 Chapter Case: Network driven market entry modes of Seiko Epson Corporation (Japan) Chapter 7: Networks, Early Internationalization, and the Role of the Entrepreneur 7.1 Internationalization and the factor of time 7.1.1 International incumbents and young internationalizing firms 7.1.2 Small- and medium-sized firms, international new ventures, and born global firms 7.2 The role of the entrepreneur 7.2.1 Personal relationships 7.2.2 The value of personal relationships in times of economic crisis 7.3 Chapter Case: 'Powertron GmbH' (Germany): An early internationalizing SME Chapter 8: Implementing a Relationship Perspective 8.1 Conventional projects 8.1.1 Proje
use of new technologies makes it possible to conduct business electronically. Business to business models evolve in the electronic market place. Drawing from their extensive experience, Mario Glowik and Sarah Maria Bruhs outline the main key areas of evolution of business to business models that will change business in future, providing a wealth of practical examples and business strategies.' Fiorenza Belussi, Padua University, Italy 'Business-to-Business from a network perspective is a useful resource for any practitioner or student of international business. Explanatory theories are well balanced against insightful cases illustrating the multilevel complexities inherent in dynamic business networks.' Peter Zettinig, Research Fellow, University of Turku, Finland