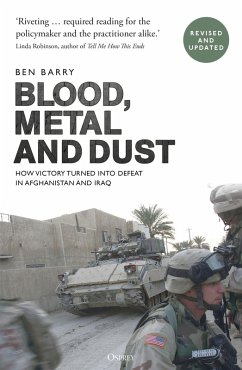 Geräte: eReader

mit Kopierschutz

Größe: 19.58MB
Andere Kunden interessierten sich
auch
für
SHORTLISTED FOR THE DUKE OF WELLINGTON MEDAL FOR MILITARY HISTORY 2021, THE BRITISH ARMY BOOK OF THE YEAR 2021, AS A FINALIST FOR THE 2020 ARMY HISTORICAL FOUNDATION DISTINGUISHED WRITING AWARDS. FIRST RUNNER UP IN THE TEMPLER MEDAL BOOK PRIZE 2021.

'With a soldier's eye for telling operational details, Ben Barry offers an authoritative, compelling and inevitably bleak account of the American and British campaigns in Iraq and Afghanistan.' Sir Lawrence Freedman, Emeritus Professor of War Studies, King's College London

Newly revised and updated with in-depth analysis of the current situation in Afghanistan after American withdrawal, Blood, Metal and Dust is an authoritative account of how the wars in Iraq and Afghanistan were played out, explaining their underlying politics and telling the story of what happened on the ground.

From the high-ranking officer who wrote the still-classified British military analysis of the war in Iraq comes the authoritative history of two conflicts which have overshadowed the beginning of the 21st century. Inextricably linked to the ongoing 'War on Terror', the wars in Iraq and Afghanistan dominated more than a decade of international politics, and their influence is felt to this day.

Blood, Metal and Dust is the first military history to offer a comprehensive overview of the wars in Afghanistan and Iraq, providing in-depth accounts of the operations undertaken by both US and UK forces. Brigadier Ben Barry explores the wars which shaped the modern Middle East, providing a detailed narrative of operations as they unfolded. With unparalleled access to official military accounts and extensive contacts in both the UK and the US militaries, Brigadier Barry is uniquely placed to tell the story of these controversial conflicts, and offers a rounded account of the international campaigns which irrevocably changed the global geopolitical landscape.