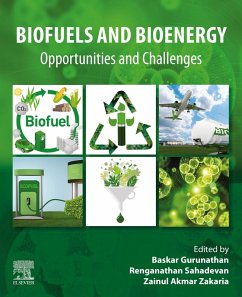 Geräte: eReader

ohne Kopierschutz

Größe: 47.22MB
Andere Kunden interessierten sich
auch
für
Biofuels and Bioenergy: Opportunities and Challenges
addresses the technological developments and challenges in the production of a broad range of biofuels and bioenergy products from renewable feedstock. The book emphasizes the opportunities and challenges involved in various processes including fermentation, transesterification, microbial fuels cells, liquefaction, gasification, and pyrolysis. These are also considered from a biorefinery perspective and discuss all common biomass feedstocks. In addition, the book presents new research on microalgae from waste water treatment, large scale production of microalgae, microbial biooil production, biogas production, computational tools for manipulation of metabolic pathway for enhanced biogas production, production of biofuel from genetically modified microalgal biomass, techno-economic analysis, environmental impact and life cycle analysis.
Biofuels and Bioenergy
is an ideal reference on the latest research for researchers and students working in the area of biofuels and renewable energy.
Addresses biological and chemical methods of biofuel and bioenergy production
Provides industry case studies alongside in-depth techno-economic analysis, environmental impact, and life cycle assessment of biofuels production
Focuses on the commercial viability of production processes
---
Dieser Download kann aus rechtlichen Gründen nur mit Rechnungsadresse in A, B, BG, CY, CZ, D, DK, EW, E, FIN, F, GR, HR, H, IRL, I, LT, L, LR, M, NL, PL, P, R, S, SLO, SK ausgeliefert werden.