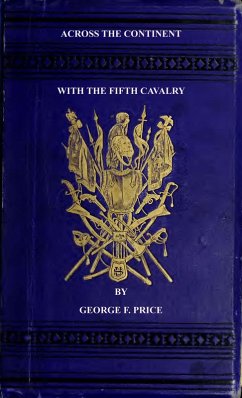 Geräte: eReader

mit Kopierschutz

Größe: 0.75MB
"Across The Continent with the Fifth Cavalry"
by George F. Price, Captain Fifth Cavalry, U. S. A., is the history of the Fifth Cavalry of the United States Army from its organization in 1855 to 1883 when the book was published. The book is divided into two main parts: Part I is a narrative history of the Unit from 1855-83, while Part II gives a short biographical sketch of each of the unit's officers during this time period.
The Fifth Cavalry was especially notable in that within its ranks were many of the most distinguished Civil War officers for both North and South as well as major military figures in the Plains Indian Wars of the 1870's. Examples for the South are Robert E. Lee, Sidney Johnston, William Hardee, Earl Van Dorn and Edmund Kirby Smith, while for the North we have George Stoneman, George Thomas, William Emory, George Custer and Wesley Merrit. This unit was a who's who of a training ground for men who put their military stamp on the period 1855 to 1880.
A fascinating look at the history of the cavalry in both the Civil War and the Indian Wars on the Great Plains of the 1870's.
There are approximately 213,350+ words and approximately 711+ pages at 300 words per page in this e-book.
NOTE: This book has been scanned then OCR (Optical Character Recognition) has been applied to turn the scanned page images back into editable text. Then every effort has been made to correct typos, spelling, and to eliminate stray marks picked up by the OCR program. The original and/or extra period images, if any, were then placed in the appropriate place and, finally, the file was formatted for the e-book criteria of the site. This means that the text CAN be re-sized, searches performed, & bookmarks added, unlike some other e-books that are only scanned---errors, stray marks, and all.
We have added an Interactive Table of Contents & an Interactive List of Illustrations if any were present in the original. This means that the reader can click on the links in the Table of Contents or the List of Illustrations & be instantly transported to that chapter or illustration.
Our aim is to provide the reader AND the collector with long out-of-print (OOP) classic books at realistic prices. If you load your mobile device(s) with our books, not only will you have fingertip access to a large library of antiquarian and out-of-print material at reasonable prices, but you can mark them up electronically & always have them for immediate reference without worrying about damage or loss to expensive bound copies.
We will be adding to our titles regularly, look for our offerings on your favorite e-book site.
---
Dieser Download kann aus rechtlichen Gründen nur mit Rechnungsadresse in A, B, CY, CZ, D, DK, EW, E, FIN, F, GR, H, IRL, I, LT, L, LR, M, NL, PL, P, R, S, SLO, SK ausgeliefert werden.