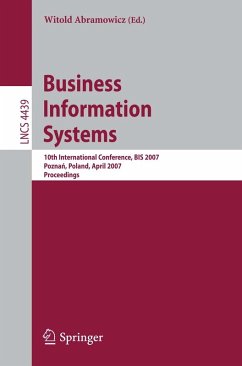 Andere Kunden interessierten sich
auch
für
---
Dieser Download kann aus rechtlichen Gründen nur mit Rechnungsadresse in A, B, BG, CY, CZ, D, DK, EW, E, FIN, F, GR, HR, H, IRL, I, LT, L, LR, M, NL, PL, P, R, S, SLO, SK ausgeliefert werden.
Produktdetails
Verlag: Springer-Verlag GmbH
Seitenzahl: 654
Erscheinungstermin: 06.06.2007
Englisch
ISBN-13: 9783540720355
Artikelnr.: 44131304
Keynote.- Security Issues for the Use of Semantic Web in E-Commerce.- Business Process Management.- Automatic Merging of Work Items in Business Process Management Systems.- Complex Events in Business Processes.- Collaborative E-Business Process Modelling: A Holistic Analysis Framework Focused on Small and Medium-Sized Enterprises.- A Conceptual Framework for Composition in Business Process Management.- Process Dependencies and Process Interference Rules for Analyzing the Impact of Failure in a Service Composition Environment.- A Survey of Comparative Business Process Modeling Approaches.- Web Services.- Web Service Discovery Based on Past User Experience.- The Service Modeling Process Based on Use Case Refactoring.- Scenarios and Techniques for Choreography Design.- Web Service-Based Specification and Implementation of Functional Components in Federated ERP-Systems.- SEEMP: Meaningful Service-Based Collaboration Among Labour Market Actors.- Towards a Digital Content Services Design Based on Triple Space.- Evaluating Quality of Web Services: A Risk-Driven Approach.- Proposal of an Architecture for a Biometrics Grid.- Ontologies.- An Ontology Slicing Method Based on Ontology Definition Metamodel.- Facilitating Business Interoperability from the Semantic Web.- Efficient Automatic Selection of Semantically-Annotated Building Blocks for ERPs Customizing.- Towards Ontology-Driven Information Systems: Redesign and Formalization of the REA Ontology.- ProdLight: A Lightweight Ontology for Product Description Based on Datatype Properties.- A Context-Based Enterprise Ontology.- Extracting Violent Events From On-Line News for Ontology Population.- Improving the Accuracy of Job Search with Semantic Techniques.- Ontology-Based User Profiling.- Information Retrieval.- Xistree: Bottom-Up Method of XML Indexing.- Efficient Algorithms for Spatial Configuration Information Retrieval.- String Distance Metrics for Reference Matching and Search Query Correction.- Natural Language Technology for Information Integration in Business Intelligence.- Semantic Similarity Measure of Polish Nouns Based on Linguistic Features.- Automatic Document Structure Detection for Data Integration.- Bottom-Up Discovery of Clusters of Maximal Ranges in HTML Trees for Search Engines Results Extraction.- Usability of GeoWeb Sites: Case Study of Czech Regional Authorities Web Sites.- System Design.- Supporting Use-Case Reviews.- Investigation of Application Specific Metrics to Data Quality Assessment.- Tool-Supported Method for the Extraction of OCL from ORM Models.- Agents And Mobile Applications.- Model-Driven Architecture for Mobile Applications.- Automated Integration Tests for Mobile Applications in Java 2 Micro Edition.- Pitfalls of Agent System Development on the Basis of a Travel Support System.- Anticipative Agent Based System Synchronization Example.- Ubiquitous Commerce Business Models Based on Ubiquitous Media.- Context-Awareness in Mobile Service Meets Fine Location Estimate.- Decision Support.- Adaptive Fuzzy Inventory Control Algorithm for Replenishment Process Optimization in an Uncertain Environment.- Post Decision-Making Analysis of the Reengineering Process Supported by Simulation Methods.- Contextual Classifier Ensembles.- Social Issues.- An Algebraic Algorithm for Structural Validation of Social Protocols.- Long Tails and Analysis of Knowledge Worker Intranet Browsing Behavior.- A Trustworthy Email System Based on Instant Messaging.- Specific MIS Issues.- Towards Operationalizing Strategic Alignment of IT by Usage of Software Engineering Methods.- A Modelling Approach for Dynamic and Complex Capacities in Production Control Systems.- Product Line Architecture for RFID-Enabled Applications.