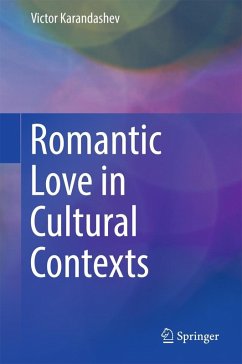 Andere Kunden interessierten sich
auch
für
Much of the current research evidence suggests that love is a universal emotion experienced by a majority of people, in various historical eras, and in all the world's cultures. Yet, love displays in different ways because culture has an impact on people's conceptions of love and the ways they feel, think, and behave in romantic relationships. This volume summarizes classical knowledge on love and culture while at the same time focusing sharply on recent studies and cutting-edge research that has advanced the field.
Divided into three parts, the volume begins by defining and analyzing the concept of romantic love and interdisciplinary approach to its study in cultural context. Part II traces the origin and evolution of romantic love both in various places throughout the world and various time periods throughout history. Part III presents the revolutionary expansion of romantic love ideas and practices in the late 20th and early 21st centuries in various parts of the world, focusing particularly on the development of romantic love as a cultural ideal of the modern cultures. Finally, the book concludes by summarizing the major achievements in this field of study and predicts future development. A timely and thoughtful addition to the literature, Romantic Love in Cultural Contexts delivers thought-provoking insights to researchers in relationship scholarship, sociology, anthropology, and cultural studies, and all those interested in the universal human concept of love.


Overall I find Dr. Victor Karandashev is an excellent and fine scholar who has a firm grasp of both the fundamental principles of cross-cultural research and of anthropology. In our increasingly connected world Romantic Love in Cultural Contexts updates and adds to the descriptions and explanations of similarities and differences in romantic love across generations and cultures. Romantic love encompasses the life span, rather than being a phenomenon largely confined to youthful years. The topic of this project concerns the deepest of our sentiments and pervades life from birth to death. This book contributes to better knowledge of this phenomenon across generations.

Félix Neto

(Professor of Psychology)

Faculdade de Psicologia e de Ciências da Educação

Universidade do Porto, Portugal


---
Dieser Download kann aus rechtlichen Gründen nur mit Rechnungsadresse in A, B, BG, CY, CZ, D, DK, EW, E, FIN, F, GB, GR, HR, H, IRL, I, LT, L, LR, M, NL, PL, P, R, S, SLO, SK ausgeliefert werden.
Produktdetails
Verlag: Springer-Verlag GmbH
Erscheinungstermin: 24.12.2016
Englisch
ISBN-13: 9783319426839
Artikelnr.: 53033777
Foreword by Elaine Hatfield

Part I. Romantic love: Conceptualizations and approaches

Chapter 1. The concept of romantic love

Chapter 2. Cultural and interdisciplinary approaches to romantic love

Part II. Historical and cultural perspectives on romantic love

Chapter 3. The Ancients Were Open to Love

Chapter 4. Love in the Pre-Medieval and Medieval Era

Chapter 5. Further Developments of Romantic Love in the 16 th through 19 th Centuries

Chapter 6. Love during the 19th and early 20th Centuries

Part III. Modern Love Around the World<

Chapter 7. Love in Modern America and Europe

Chapter 8. Romantic Love in the Arab World

Chapter 9. Love in South Asia

Chapter 10. Love in Latin America

Chapter 11. Love in Modern Australia and among the Indigenous People of Australia, Polynesia, and Southeast Asia

Chapter 12. Marriage and Love in Africa in the 20th Century

Chapter 13. Romantic Love in China

Chapter 14 Romantic love and culture: Reviewing past and looking forward
References
"Karandashev (psychology, Aquinas College) attempts to examine the concept of "romantic love" throughout history and across many world cultures. ... it will no doubt compel many readers to consult the extensive bibliography and venture where their academic interest in love may take them! Summing Up: Recommended. Graduate students, faculty." (J. R. Mitrano, Choice, Vol. 54 (12), August, 2017) "This unique text combines historical, sociological, anthropological, and psychological data to answer, 'What does romantic love look like to different people and cultures across time and geographies?' ... this book is an impressive and refreshing read for anyone interested in an interdisciplinary and inclusive look at 'romantic love.' ... This text may be used to answer historical questions and generate inclusive research questions moving forward." (Katheryn L. B. Votaw, PsycCRITIQUES, Vol. 62 (18), May, 2017)