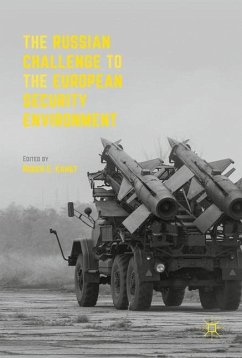 Andere Kunden interessierten sich
auch
für


-Rajan Menon, Anne and Bernard Spitzer Chair in Political Science, The City College of New York, USA

This edited collection examines the factors that have contributed to the growing conflict in Eurasia between the Russian Federation and the European Union and the United States. The individual chapters, written by authors with different national backgrounds, highlight the factors that have contributed to the emerging competition between the two sides that has culminated in the confrontation over Ukraine and Syria. It also deals with questions concerning the possible emergence of a new security environment in Europe and Eurasia.


Produktdetails
Artikelnr. des Verlages: 978-3-319-50774-3
1st ed. 2017
Erscheinungstermin: 7. Mai 2017
Englisch
Abmessung: 216mm x 153mm x 20mm
Gewicht: 508g
ISBN-13: 9783319507743
ISBN-10: 3319507745
Artikelnr.: 46967321
Introduction : Challenges to the Security Environment in Eurasia.- Chapter 1: Part I: The Russian Challenge to the Security Environment in Eurasia.- Chapter 2: Preserving Peace among the Great Powers: Russia's Foreign Policy and Normative Challenges to the International Order.- Chapter 3: The Clash of Great Powers in the Post-Soviet Space: EU and Russian Foreign Policies in their Overlapping Neighborhood.- Chapter 4: A Cold Peace between Russia and the West: Did Geoeconomics fail?.- Chapter 5: The Coercive Diplomacy of Vladimir Putin (2014-2016).- Chapter 6: The Russian Federation and the West: The Problem of International Order.- Chapter 7: Russia and the Evolving Eurasian Security Order: Impact and Implications of the Ukraine Crisis.- Chapter 8: Ukraine and the Restructuring of East-West Relations.- Chapter 9: Regionalism and Multivectorism in Eurasia: The Strange Case of Ukraine.- Chapter 10: Russia and Turkey: Clash of Identities and Interests in the Syrian Conflict.- Conclusion: Russia and the Future of the Eurasian Security Environment.