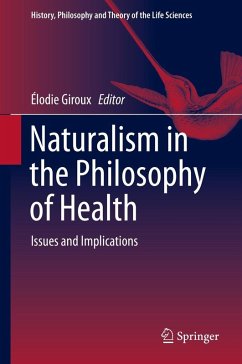 Andere Kunden interessierten sich
auch
für
This volume offers the first comprehensive review and critical assessment of the nature and status of naturalism in the philosophy of health. It explores the notion of biological normativity and its relevance for the philosophy of health, and it analyses the implications of the philosophical theories of health for healthcare and the debate on health enhancement.
In the first section, several contributions identify the kind of 'naturalism' the biostatistical theory belongs to and offer further criticisms or possible modifications, such as the concept of function that is required by this theory, and whether a comparativist approach to health is more relevant than a non-comparativist one. The second section explores natural or biological 'normativity' and some possible accounts of health that could be based on this concept. The third and final section focuses on the implications of naturalism in healthcare. 'Goals of Medicine' is the first paper in which Christopher Boorse ventured toward analysing the implication of his biostatistical theory of health on the practice of medicine, the difficult issue of the goals of medicine and the boundary between treating and enhancing. Other papers in this section critically evaluate Boorse's account and analyse the importance of a positive concept of health.
---
Dieser Download kann aus rechtlichen Gründen nur mit Rechnungsadresse in A, B, BG, CY, CZ, D, DK, EW, E, FIN, F, GB, GR, HR, H, IRL, I, LT, L, LR, M, NL, PL, P, R, S, SLO, SK ausgeliefert werden.
Produktdetails
Verlag: Springer-Verlag GmbH
Erscheinungstermin: 25.04.2016
Englisch
ISBN-13: 9783319290911
Artikelnr.: 46928920
Chapter 1: Introduction. Why a Book on Naturalism in the Philosophy of Health?; Élodie Giroux.- PART I: The Biostatistical Theory of Disease: Criticisms and Improvements.- Chapter 2: Is Boorse's Biostatistical Theory of Health Naturalistic?; Maël Lemoine.- Chapter 3: In Search of Normal Functions: BST, Cummins Functions, and Hempel's Problem; Marion Le Bidan.- Chapter 4: On Comparative Versus Non-comparative Theory of Health; Daniel Hausman.- Chapter 5: What a Naturalist Theory of Illness Should be; Thomas Schramme.- PART II: Health, Normativity and Naturalism.- Chapter 6: Contextualizing Medical Norms: Georges Canguilhem's Surnaturalism; Jonathan Sholl.- Chapter 7: Organizational Malfunctions and the Notions of Health and Disease; Cristian Saborido.- Chapter 8: Biological Organization and Pathology: Three Views on the Normativity of Medicine; Arantza Etxeberria.- PART III: Implications for Healthcare.- Chapter 9: Goals of Medicine; Christopher Boorse.- Chapter 10: From 'Better Than Well' to 'More Than Human'; Jean-Yves Goffi.- Chapter 11: Broadening and Balancing the Goals of Medicine: Battling Disease and Treating the Healthy; Peter Schwartz.- Chapter 12: A Defence of a Holistic Notion of Health; Lennart Nordenfelt.
"Naturalism in the Philosophy of Health is a comprehensive last word on the current debate between naturalistic and normative conceptions of health and disease. ... it will serve well as an senior level undergraduate introduction to the Philosophy of Health or as a text in a special graduate studies course in this field. ... It is well worth the read!" (Wendy C. Hamblet, metapsychology online reviews, metapsychology.mentalhelp.net, Vol. 20 (40), October, 2015)