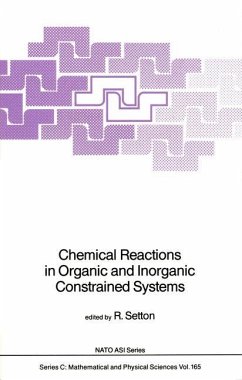 Andere Kunden interessierten sich
auch
für
`...a unique document especially to physico-organic chemists exploring new constrained systems.' -- Journal of Scientific and Industrial Research, (1987)
---
The basic idea of the NATO International Exchange Program for funding an Advanced Research Workshop on "Chemical Reactions in Organic and Inorganic Constrained Systems" was to contribute to a better under standing of the influence of configurational constraints on reaction mechanisms, as imposed on reagents by organic or inorganic templates. The original character of the Workshop was to bring together organic and inorganic chemists with this common interest in order to promote the exchange of ideas and, eventually, interdisciplinary research. All the participants to the Workshop agreed that the discussions were stimulating and fruitful. The judgement of the reader of the Proceedings may perhaps be more restrictive because the director (Professor J. J. FRIPIAT) and co-director (Professor P. SINAY), faced with the impossible task of covering such an enormous domain, were obliged to select, somewhat arbitrarily, a limited number of topics which seemed to them to be the most important. Their choice may be discussed and there surely are important gaps, with fields which were not considered. However, both organisers believe that, within the limited span of time and number of contributors, most of the exciting areas were addressed. Dr. WARNHEIM was kind enough to write a commentary on the Workshop; his summary, written with the hindsight of a few weeks, supports, we believe, this opinion. Dr. SETTON has accepted the burden of collecting and shaping (not selectively) the manuscripts. This book would not be what it is without his efficient contribution as scientific secretary of the Workshop.
Produktdetails
NATO Science Series C Vol.165
Verlag: Springer Netherlands
1986.
Seitenzahl: 478
Erscheinungstermin: 28. Februar 1986
Englisch
Abmessung: 241mm x 160mm x 30mm
Gewicht: 848g
ISBN-13: 9789027721754
ISBN-10: 9027721750
Artikelnr.: 22080813
Chiral, Size and Shape Recognition of Guests by Modified Cyclodextrin.- 6A6X-Disulfonates of Cyclodextrins.- Attempts to Mimic Enzymes - Report from the Battle Front.- Weak Forces in Mixed Chelate and Macrocyclic Systems.- Zeolites: Their Characteristic Structural Features.- Rhodium and Iridium Carbonyl Complexes Entrapped in Zeolites. Structural and Catalytic Properties.- Shape Selective Alkylation Reactions over Medium-Pore High Silica Zeolites.- Zeolite-Induced Selectivity in the Conversion of the Lower Aliphatic Carboxylic Acids.- Selectivity Induced by the Void Structure of Zeolite-Beta and Ferrierite in the Hydroconversion Reaction of N-Decane.- Coke Formation on Protonic Zeolites: Rate and Selectivity.- Acid-Catalyzed Reactions for the Characterization of the Porous Structure of Zeolites.- Pillared Clays: Synthesis and Structural Features.- Pillared Montmorillonite and Beidellite. Acidity and Catalytic Properties.- Intracrystalline Complexation by Crown Ethers and Cryptands in Clay Minerals.- Selectivity Induced by Heterogeneous Conditions in the Alkylation of Anionic Reagent.- The Reactions in Clays and Pillared Clays.- Preparative Organic Chemistry Using Clays.- Clay Catalyzed Ene-Reactions; Synthesis of ?-Lactones.- Photoinduced Charge Separation at Inorganic and Organic Interfaces.- A Comparison of the Forward and Back Photoelectron Transfers in Direct and Reverse Micelles.- Effect of Microemulsions on Photochemical Reactions.- Energetical and Geometrical Constraints on Adsorption and Reaction Kinetics on Clay Surfaces.- Reactions between Acidic Microemulsions and Calcium Carbonate.- Photochemical Reactions at the Air-Water Interface Investigated with the Reflection Method.- Geometrical and Electronic Constraints in Redox Intercalation Systems.- Transition Metal Bronzes: Properties and Reactivity.- Crystalline Silicic Acids.- The Behaviour of Some Alkali Metal Graphite Compounds Towards Sundry Reagents.- Mechanism of the Catalytic Gasification and Reactivity of Graphite.- Reactivity of Hydrocarbons on Contact with the Solid Superacid: First Stage Antimony Pentafluoride Intercalated Graphite.- An Example of Crystalline Growth in a Constrained Medium: The Intercalation of Metals and Metallic Alloys into Graphite.- Order-Disorder Phenomena in Graphite Intercalation Compounds and Reduction Reactions in Alkali Metal-Intercalated Compounds of Graphite.