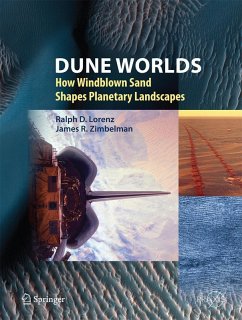 Andere Kunden interessierten sich
auch
für


The book is divided into 4 parts, the first of which introduces dunes as a planetary phenomenon, showing a landscape reflecting the balance of geological processes - volcanism, impact, tectonics, erosion, deposition of sediments. Dunes are then considered as emergent dynamical systems: the interaction of sand and wind conspires to generate very characteristic and reproducible shapes. Analogies are given with other emergent structures such as patterned ground before the influence of dunes on desert peoples and infrastructure is studied, together with their use as forensic climatological indicators.

Dune Physics is looked at with regard to the mechanics of sand, the physics of wind, saltation - interaction of sand and air - dunes versus ripples and transverse Aeolian ridges, the classification of dune morphology and the sources and sinks of sand. Dune Trafficability considers soil mechanics, effects on mobility on Earth, Mars and elsewhere.

In the second part, Earth, Mars, Titan and other moons and planets are examined, beginning with a survey of the major deserts and dunefields on Earth. The authors then turn to Mars and its environment, sediment type, dune stratigraphy, sediment source and sinks and the association of dunes with topographic features. Titan follows - its thick, cold atmosphere, methane dampness, low gravity, morphology - interaction with topography and the implications of dunes for climate and winds. Dunes elsewhere conclude this part. There are few dunefields on Venus, but there is a .possibility of Aeolian transport on Triton and volcanic-related windstreaks on Io.


Produktdetails
Springer Praxis Books
Verlag: Springer / Springer, Berlin
Artikelnr. des Verlages: 12536672, 978-3-540-89724-8
2014
Seitenzahl: 332
Erscheinungstermin: 6. Mai 2014
Englisch
Abmessung: 285mm x 215mm x 23mm
Gewicht: 1064g
ISBN-13: 9783540897248
ISBN-10: 3540897240
Artikelnr.: 27448801
1.1 Introduction

1.2 Dune Physics

1.3 Dune Trafficability - soil mechanics, effects on mobility on Earth, Mars and elsewhere

---
1.1 Introduction

1.2 Dune Physics

1.3 Dune Trafficability - soil mechanics, effects on mobility on Earth, Mars and elsewhere


From the book reviews:

"This book is likely to become the new 'go to' overview of windblown sand, dunes, and eolian landscapes, especially for those whose perspective transcends Earth. ... The book is nicely illustrated with examples of virtually everything discussed ... . For an entrée to the world of sand dunes throughout the solar system, this reviewer cannot think of a better place to start. Summing Up: Highly recommended. Upper-division undergraduates and above." (B. M. Simonson, Choice, Vol. 52 (4), December, 2014)