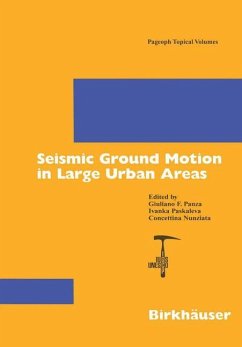 Andere Kunden interessierten sich
auch
für


Losses from earthquakes will continue to increase if we do not shift towards proactive solution. Disaster reduction is both an issue for consideration in the sustainable development agenda and a cross-cutting issue relating to the social, economic, environmental and humanitarian sectors. As location is the key factor, which determines the level of risk associated with a hazard, land-use plans and mapping should be used as tools to identify the most suitable usage for vulnerable areas.


Produktdetails
Pageoph Topical Volumes
Artikelnr. des Verlages: 978-3-7643-7042-8
2004
Seitenzahl: 368
Erscheinungstermin: 23. April 2004
Englisch
Abmessung: 244mm x 170mm x 19mm
Gewicht: 702g
ISBN-13: 9783764370428
ISBN-10: 3764370424
Artikelnr.: 12687324
Seismicity and Tectonic Structures in the Site of Algiers and its Surroundings: A Step Towards Microzonation.- Seismicity of Morocco for the Period 1987-1994.- The Nile Valley of Egypt: A Major Active Graben that Magnifies Seismic Waves.- Seismicity and Seismic Hazard in Alexandria (Egypt) and its Surroundings.- Linear Amplification of Horizontal Strong Ground Motion in Zagreb (Croatia) for a Realistic Range of Scaled Point Sources.- Ground Motion Zoning of Santiago de Cuba: An Approach by SH Waves Modelling.- Duration Magnitude Scale and Site Residuals for Nothern Morocco.- Using Active Faults and Seismicity for the Strong Motion Modeling in the Eastern Rif (Northern Morocco).- Realistic Modeling of Seismic Wave Ground Motion in Beijing City.- Estimation of Site Effects in Beijing City.- Microzonation of Bucharest: State-of-the-Art.- Deterministic Approach for the Seismic Microzonation of Bucharest.- Site-specific Microzonation Study in Delhi Metropolitan City by 2-D Modelling of SH and P-SV Waves.- I: Theoretical Site Response Estimation for Microzoning Purposes.- II: Comparison of Theoretical and Experimental Estimations of Site Effects.- Deterministic Earthquake Scenarios for the City of Sofia.- Seismic Ground Motion in Napoli for the 1980 Irpinia Earthquake.- Expert Assessment of the Displacements Provoked by Seismic Events: Case Study for the Sofia Metropolitan Area.- Seismic Characterization of Neapolitan Soils.