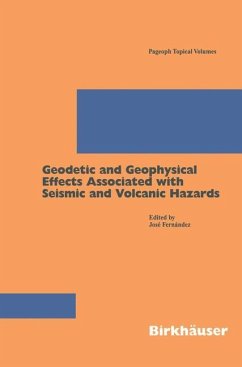 Andere Kunden interessierten sich
auch
für
---
Although geodetic monitoring techniques have been widely used in areas of seismic or volcanic activity, the difficulty inherent to their discrete nature means that they must be deployed carefully to ensure the best possible detection or sensitivity of these points (see e. g. , BALDI and UNGUENDOLI, 1987; JOHNSON and WYATT, 1994; SEGALL and MATTHEWS, 1997; Yu et al. , 2000). In many cases, a more global monitoring method, is required yet at the same time one that offers the highest level of sensitivity which enables detection of the phenomenon. Interferometry radar (InSAR) techniques have been shown to play an important role in seismic and volcanic monitoring because they cover large areas (100 x 100 km) and can be easily systematized in monitoring (see e. g. , MASSONNET and FEIGL, 1998; BDRGMANN et al. , 2000; MASSONNET and SIGMUNDSON, 2000; HANSSEN, 2001). The limitations inherent to the GPS and InSAR techniques (mainly observations at discrete surface points in the case of GPS and existence of non-coherent areas and the fact that, at present, the three displacement components cannot be obtained in SAR interferometry) can be overcome by using them together or other techniques (e. g. , PUGLISI and COLTELLI, 2001; RODRiGUEZ-VELASCO et al. , 2002; FERNANDEZ et al. , 2003).
Produktdetails
Pageoph Topical Volumes
2004
Seitenzahl: 320
Erscheinungstermin: 25. Juni 2004
Englisch
Abmessung: 235mm x 155mm x 17mm
Gewicht: 612g
ISBN-13: 9783764370442
ISBN-10: 3764370440
Artikelnr.: 12687276
Introduction.- Stress changes modelled for the sequence of strong earthquakes in the South Iceland seismic zone since 1706.- 3-D modelling of Campi Flegrei ground deformations.-Comparison of integrated geodetic data models and satellite radar interferograms.- Gps Monitoring in the N-W part of the Volcanic Island of Tenerife, Canaries, Spain.- Far field gravity and tilt signals in large earthquakes.- Study of volcanic sources at Long Valley Caldera, Cal..- Gravity changes and internal processes.- New results at Mayon, Philippines, from a joint inversion of gravity and deformation measurements.- The interpretation of gravity changes and crustal deformation in active volcanic areas.- Intrusive Mechanisms at Mt. Etna.- Methods for evaluation of geodetic data and seismicity.- A free boundary problem related to the location of volcanic gas sources.- High CO2 levels in boreholes at El Teide volcano complex.- Simulation of the Seismic Response of Sedimentary Basins.- The use of ambient noise measurements for the estimation of surface soil effects.- Results of Analysis the Data of Microseismic Survey at Lanzarote Island.- Microtremor analyses at Teide Volcano.- Tilt observation in the normal mode frequency band at Geodynamic Observatory Cuevo de los Verdes.