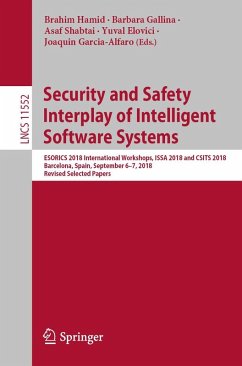 Andere Kunden interessierten sich
auch
für


The ISSA 2018 workshop received 10 submissions from which 3 full papers and 1 short paper were accepted. They cover topics such as software security engineering, domain-specific security and privacy architectures, and automative security. In addition, an invited paper on safety and security co-engineering intertwining is included. The CSITS 2018 workshop received 9 submissions from which 5 full papers and 1 short paper were accepted. The selected papers deal with car security and aviation security.

Produktdetails
Lecture Notes in Computer Science .11552
Artikelnr. des Verlages: 978-3-030-16873-5
1st ed. 2019
Seitenzahl: 188
Erscheinungstermin: 28. März 2019
Englisch
Abmessung: 235mm x 155mm x 10mm
Gewicht: 295g
ISBN-13: 9783030168735
ISBN-10: 3030168735
Artikelnr.: 55357447
Invited Paper.- Towards safety and security co-engineering. Challenging aspects for a consistent intertwining.- Safety and Security Interplay.- Understanding Common Automotive Security Issues and their Implications.- SysML model transformation for safety and security analysis.- The Challenge of Safety Tactics Synchronization for Cooperative Systems (Short Paper).- SAM: A Security Abstraction Model for Automotive Software Systems.- Car Security.- CAN-FD-Sec: Improving Security of CAN-FD Protocol.- INCANTA - INtrusion detection in Controller Area Networks with Time-covert Authentication.- Detection of Injection Attacks in Compressed CAN Traffic Logs.- Key Is In The Air: Hacking Remote Keyless Entry Systems (Short Paper).- Aviation Security.- Surveying Aviation Professionals on the Security of the Air Traffic Control System.- On the Security of MIL-STD-1553 Communication Bus.