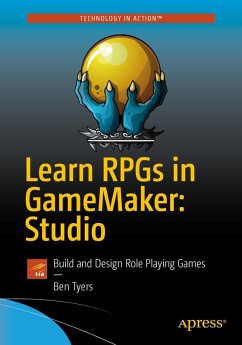 Andere Kunden interessierten sich
auch
für
Using
Learn RPGs in GameMaker: Studio
, you can design and build your own RPG using the GameMaker: Studio platform. Build your first game application and deploy in an app store, on Facebook, or just on a PC. Maybe, even, make a few bucks.
What You'll Learn
Use the GameMaker: Studio platform to design and build a role playing game
Create a story for game design purposes, using a plot line and defining characters
Discover the impact of aesthetics on art style, character separation, scene development, sound design and views
Master core gameplay elements such as battles, exploration, scoring, and endings
Work with extended gameplay elements such as collectibles, quirks, management, and saving
Employ the various core and extended gameplay elements as appropriate to your RPG
Who This Book Is For
Game designers or developers looking to design and build their first role playing game using the GameMaker: Studio platform.
Produktdetails
Verlag: Apress / Springer, Berlin
Artikelnr. des Verlages: 978-1-4842-2945-3
1st ed.
Seitenzahl: 336
Erscheinungstermin: 10. August 2017
Englisch
Abmessung: 254mm x 178mm x 18mm
Gewicht: 642g
ISBN-13: 9781484229453
ISBN-10: 1484229452
Artikelnr.: 48281811
1. Introduction2. Alert Text Effect3. Battle System4 Boss Character's Battle5. Branching Dialogue6. Coin System Shop7. CutScene8. Depth Based Graphics9. Downloading Bonus Levels From Website10. Drivable Vehicles11. Enemy Path Finding12. Foot Step Sounds13. Hints & Tips14. HUD15. Inventory16. Invincibility17. Mini-Quests18. Multiple Locations 19. Positional Audio20. Respawn Points21. Usable Items22. Weapon Control23. Zooming24. Destructible Terrain25. Dashing26. Quest Completion27. Road Builder28. Character Progression29. Party Mechanics30. Day / Night Cycle31. Puzzle Room32. Treasure Hunting33. Card Battle34. Graphical Effects35. Random Level Generation36. Fishing Mini Game37. Ship Mini Game38. Dice Rolling39. Mini Game & Dual View40. Game End41. Saving