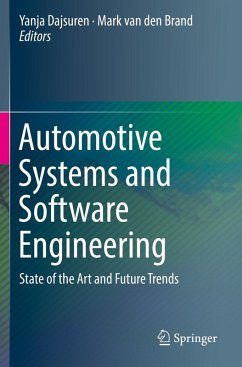 Andere Kunden interessierten sich
auch
für

This book covers all essential aspects of the field. After a general introduction to the topic, it addresses automotive software development, automotive software reuse, E/E architectures and safety, C-ITS and security, and future trends. The specific topics discussed include requirements engineering for embedded software systems, tools and methods used in the automotive industry, software product lines, architectural frameworks, various related ISO standards, functional safety and safety cases, cooperative intelligent transportation systems, autonomous vehicles, and security and privacy issues.
The intended audience includes researchers from academia who want to learn what the fundamental challenges are and how they are being tackled in the industry, and practitioners looking for cutting-edge academic findings. Although the book is not written as lecture notes, it can also be used in advanced master's-level courses on software and system engineering. The book also includes a number of case studies that can be used for student projects.
Produktdetails
Verlag: Springer / Springer, Berlin
Artikelnr. des Verlages: 978-3-030-12159-4
1st ed. 2019
Seitenzahl: 380
Erscheinungstermin: 14. August 2020
Englisch
Abmessung: 235mm x 155mm x 20mm
Gewicht: 581g
ISBN-13: 9783030121594
ISBN-10: 3030121593
Artikelnr.: 59803528
Part I: Introduction.- Automotive Software Engineering: Past, Present, and Future.- Part II: Automotive Software Development.- Requirements Engineering for Automotive Embedded Systems.- Status Report on Automotive Software Development.- State-of-the-Art Tools and Methods Used in the Automotive Industry.- Part III: Automotive Software Reuse.- Software Reuse: From Cloned Variants to Managed Software Product Lines.- Variability Identification and Representation for Automotive Simulink Models.- Defining Architecture Framework for Automotive Systems.- Part IV: E/E Architecture and Safety.- The RACE Project: An Informatics-Driven Greenfield Approach to Future E/E Architectures for Cars.- Development of ISO 11783 Compliant Agricultural Systems: Experience Report.- Safety-Driven Development and ISO 26262.- Part V: C-ITS and Security.- Introduction to Cooperative Intelligent Transportation Systems.- In-Vehicle Networks and Security.- Security for V2X.- Intelligent Transportation System Infrastructure and Software Challenges.- Part VI: Future Trends.- Future Trends in Electric Vehicles Enabled by Internet Connectivity, Solar, and Battery Technology.- Autonomous Vehicles: State of the Art, Future Trends, and Challenges.