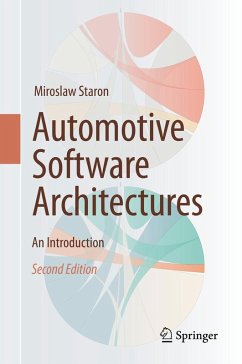 Andere Kunden interessierten sich
auch
für


This book explores the concept of software architecture for modern cars and is intended for both beginning and advanced software designers. It mainly aims at two different groups of audience - professionals working with automotive software who need to understand concepts related to automotive architectures, and students of software engineering or related fields who need to understand the specifics of automotive software to be able to construct cars or their components. Accordingly, the book also contains a wealth of real-world examples illustrating the concepts discussed and requires no prior background in the automotive domain. Compared to the first edition, besides the two new chapters 3 and 7 there are considerable updates in chapters 5 and 8 especially.


Produktdetails
Artikelnr. des Verlages: 978-3-030-65938-7
2. Aufl.
Seitenzahl: 296
Erscheinungstermin: 3. März 2021
Englisch
Abmessung: 241mm x 160mm x 22mm
Gewicht: 612g
ISBN-13: 9783030659387
ISBN-10: 3030659380
Artikelnr.: 60540723
1 Introduction.- 2. Software Architectures-Views and Documentation.- 3. Contemporary Software Architectures: Federated and Centralized.- 4. Automotive Software Development.- 5. AUTOSAR (AUTomotive Open System ARchitecture).- 6. Detailed Design of Automotive Software.- 7. Machine Learning in Automotive Software.- 8. Evaluation of Automotive Software Architectures.- 9. Metrics for Software Design and Architectures.- 10. Functional Safety of Automotive Software.- 11. Current Trends in Automotive Software Architectures.- 12 Summary.

"An experienced software architect could read the book over a weekend due to the excellent organization and lucidity of the writing. This is a perfect reference and companion book for a short course or workshop on automotive software engineering for software professionals transitioning to the automotive industry from other sectors." (Sundara Nagarajan, Computing Reviews, March, 2018)