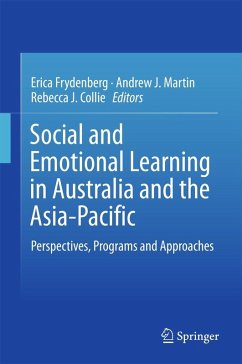 Andere Kunden interessierten sich
auch
für
"Frydenberg, Martin, and Collie have provided an incredible service by bringing together in a single well planned scholarly volume an incredible and well balanced group of senior and early career cutting edge researchers from Australia, Asia and the Asia Pacific area tackling approaches and key issues of social and emotional learning. Their much needed volume links research on key factors, such as differing perspectives, measurement issues, the identification of at-risk children, teachers' social and emotional development, and these and other across the cultures of an increasingly vibrant and developing geographic region. It is indeed encouraging to gain the sense of depth and breadth of ongoing research that the volume gives. "
John Roodenburg PhD FAPS MCEDP MCCOUNSP, Monash University Melbourne
"Social and Emotional Learning is understood to be a crucial part of the school curriculum. This book covers the field, with a refreshing focus on work being done in Australia and in neighbouring countries. For school psychologists, the book helps us to understand how SEL can help at every level - from working with individuals, small groups, whole classes, or with the entire school. Our work with vulnerable students, individually or in small groups, is always more effective when embedded in the broader context of Social and Emotional Learning."
Paul Bertoia FAPS MCEDP, Senior School Psychologist
"This collected volume of researchers from Australia and the Asia-Pacific provides a thorough review of important educational, social, and emotional development issues for practitioners and researchers around the world. Readers will greatly benefit from the breadth and depth of treatment in each of the topics covered."
Kit-Tai Hau, PhD, Choh-Ming Li Professor of Educational Psychology, The Chinese University of Hong Kong.
---
Dieser Download kann aus rechtlichen Gründen nur mit Rechnungsadresse in A, B, BG, CY, CZ, D, DK, EW, E, FIN, F, GB, GR, HR, H, IRL, I, LT, L, LR, M, NL, PL, P, R, S, SLO, SK ausgeliefert werden.
Produktdetails
Verlag: Springer-Verlag GmbH
Erscheinungstermin: 07.03.2017
Englisch
ISBN-13: 9789811033940
Artikelnr.: 53032837
Perspectives from the Australian Context.- Introduction.- Positive Education in Australia: Practice, Research, Implications, and Future Directions.- School Belonging in Australia.- Social and Emotional Learning and Students' Motivation, Engagement, and Achievement: The Roles of Need Satisfaction, Adaptability, and Buoyancy.- Assessment of SEL Learning Outcomes: A Review of the Literature.- Building Teacher Capacity to Promote Social and Emotional Learning in Australia.- Social-Emotional Learning and Teachers: Implications of Teachers' Beliefs, Competence, and Well-being.- Section 2: Perspectives from the Asian Context.- SINGAPORE: Social Emotional Learning in Singapore Education: Theory, Research, and Practice in Singapore.- HONG KONG: Personal Best Goals and Social Emotional Learning in Hong Kong: Profiles, Antecedents, Correlates and Outcomes.- KOREA: The Character Education Promotion Act: Social Emotional Learning as a Solution for Adolescent Problems in Korea.- CHINA: Social Emotional Learning: Theory, Research, and Practice in China.- Section 3: Programs and Approaches from the Australian Context.- KidsMatter: Building the Capacity of Australian Primary Schools and Early Childhood Services to Foster Children's Social and Emotional Skills and Promote Children's Mental Health.- Respect for Culture - Social and Emotional Learning with Aboriginal and Torres Strait Islander Youth.- Positive Approaches to Social and Emotional Learning in a School Context: The Mindfields High School Junior Program.- From Evidence to Practice: Preparing Teachers for Wellbeing.- The Geelong Grammar Positive Psychology Experience.- SEL Programs and Approaches that Have Worked: Successive Evaluations.- Measures of Success - Exploring the Importance of Context in the Delivery of Social Emotional Learning Programs in Australian Primary and Secondary Schools.