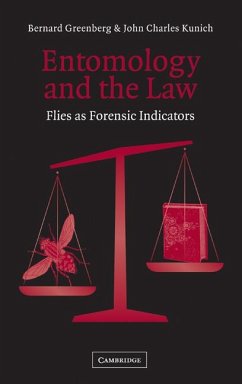 Andere Kunden interessierten sich
auch
für


Table of contents:
Glossary; Part I: Preface to Part I; 1. A history of flies; 2. Forensic biology of flies; 3. Estimating time of death; 4. Keys to the eggs, larvae, pupae and adults of some forensically important flies; 5. The fly in court; Entomological references; Part II: Preface to Part II; 6. The law of scientific evidence; 7. The admissibility of forensic entomology evidence; 8. The introduction and optimal use of forensic entomology evidence at trial; Conclusion; Index.

Entomology and the Law concerns the use of insects to solve crimes, particularly suspicious deaths. Insect-related evidence is one if the most powerful, yet least understood examples of modern forensic science. Covering both the scientific and legal issues, it will aid potential expert witnesses and lawyers alike preparing for trial.

Thorough analysis of the scientific and legal issues involved in using insects to help solve crimes.
Produktdetails
Verlag: Cambridge University Press
Seitenzahl: 330
Erscheinungstermin: 15. März 2011
Englisch
Abmessung: 240mm x 161mm x 22mm
Gewicht: 663g
ISBN-13: 9780521809153
ISBN-10: 0521809150
Artikelnr.: 22486167