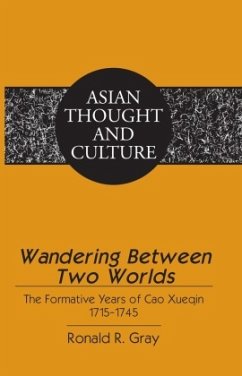 Produktdetails
Asian Thought and Culture .68
Artikelnr. des Verlages: 311503
Neuausg.
Erscheinungstermin: 24. Juni 2014
Englisch
Abmessung: 232mm x 154mm x 19mm
Gewicht: 480g
ISBN-13: 9781433115035
ISBN-10: 1433115034
Artikelnr.: 40936182
Contents: Foreword by Zhou Ruchang - Introduction: The Problem of the Biographer - "Thanks to Imperial Favor" - The Kangxi Emperor's Man on the Ground: Cao Yin and Neiwufu - "Dressed in Silks and Delicately Nurtured" - "The Embroidered Jackets Raid" - "Buildings Rich and Elegant, People Lively and Numerous" - "Career Worms" - Reading and Rereadings - "Stirred Feelings Find Expression in Sound" - The Right Wing Imperial Clan School and the Dun Brothers - Participating in the Social World: Poetry, Painting, Music, and Gardens - The Question of Motivation - "No Need for Some Self-Important Being to Commend or Publish It".