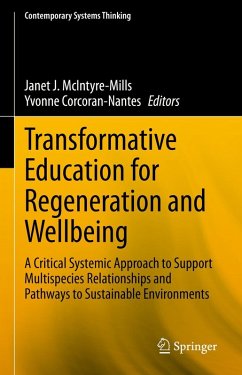 This volume contributes to theory and practice by making suggestions as to how to re-frame the content, structure and process of education for transformation. This volume makes a case for a more relational understanding of human beings and other species. This volume also explores a more integrated curriculum where learners are given the opportunity to explore many ways of knowing and learning to earn, learn and grow a future through circular economies, co-operatives and learning communities. This book highlights how the models of sustainable development focus on education for wellbeing in line with the UNESCO approach outlined in 2021 that emphasizes the systemic nature of education rooted in protecting the environment and supported by the participation of active global citizens.
This volume demonstrates transformation of our thinking and practice is overdue and calls for changing the narrative through our standing together and redesigning systems of education to prioritize a more holistic worldview that embraces the planet and living systems. The focus of this volume is on values, perspectives and ways to make a difference through addressing a range of practical concerns, such as: food, energy and water security.

Ontologically the editors' perspective is shaped by recognising kinship with nature, as expressed by Indigenous custodians. Epistemologically the editors and contributors to this volume explore ways to enhance education based on working across cultures and disciplines using a cross cultural approach and mixed methodology. Axiologically the editors support the notion of transformative research that promotes balancing non-anthropocentrism with an approach that draws on Indigenous wisdom whilst addressing patriarchal notions through gender mainstreaming.