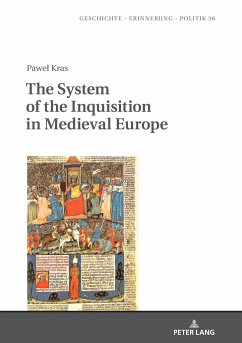 Andere Kunden interessierten sich
auch
für
Ad abolendam of 1184 became a turning point in the formation of the inquisitorial system which made both the clergy and the laity responsible for suppressing any religious dissent. From a comparative perspective, the study analyzes political, social and religious developments which in the High Middle Ages gave birth to the mechanism of repression and religious violence supervised by the papacy and operated by bishops and, starting from the 1230s, papal inquisitors, extraordinary judges delegate staffed mostly by Dominican and Franciscan friars.


Produktdetails
Geschichte - Erinnerung - Politik. Studies in History, Memory and Politics 36
Artikelnr. des Verlages: 281526
Neuausg.
Seitenzahl: 522
Erscheinungstermin: 8. September 2020
Englisch
Abmessung: 218mm x 152mm x 33mm
Gewicht: 735g
ISBN-13: 9783631815267
ISBN-10: 3631815263
Artikelnr.: 60130384
Heresy and religious dissent in medieval Christendom - the making of inquisition and religious violence - defining heresy and profiling medieval dissidents - the role of popes, bishops and Mendicant friars in the struggle against heretics - techniques of questioning heresy suspects - technology of producing records of heresy trials - types and functions of penalties imposed on heretics.