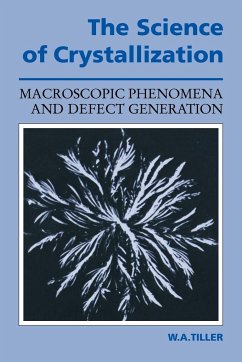 Andere Kunden interessierten sich
auch
für


Table of contents:
Introduction; 1. Convection and heat transfer; 2. Steady state solute partitioning; 3. Macroscopic and microscopic solute redistribution; 4. Morphological stability of interfaces; 5. Dynamic interface morphologies; 6. Physical defect generation during bulk crystal growth; 7. Defect generation during thin film formation; Bibliography; Index.

This book, together with its companion volume The Science of Crystallization: Microscopic Interfacial Phenomena, make up a complete course that will teach an advanced student how to understand and analyse scientifically any of the phenomena that are observed during natural or technological crystallization.

This is an advanced text treating the macroscopic phenomena and defect generation processes associated with crystallization. The book and its companion volume on Microscopic Interfacial Phenomena are sufficiently broad to provide the scientific basis necessary to address any area of application.