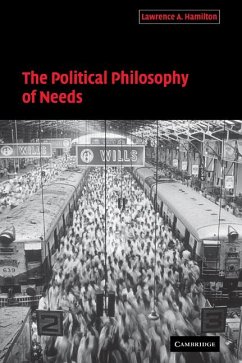 Andere Kunden interessierten sich
auch
für
Produktdetails
Verlag: Cambridge University Press
Seitenzahl: 220
Erscheinungstermin: 24. Januar 2007
Englisch
Abmessung: 229mm x 152mm x 13mm
Gewicht: 345g
ISBN-13: 9780521034043
ISBN-10: 0521034043
Artikelnr.: 22592152
Preface
Introduction
1. Liberalism's rights-preferences couple
2. Beyond the rights-preferences couple
3. The form and outline of the argument
Part I. The Nature of Needs: 4. Need categories
5. Vital needs
6. Particular social needs
7. Agency needs
8. The natures of needs: historical, normative, political
Part II. The Formation and Interpretation of Needs: 9. Generation and legitimation
10. Normative power and the institution of private property
11. Perception and interpretation
12. Oppression and need
13. True interests
14. The concepts of true interest
Part III. The Political Evaluation of Needs: 15. Freedom and rights: a critique of the concept of 'civil society'
16. Practices, institutions, and the evaluation of institutions
17. Roles: reclaiming the census
18. Practical reason and practical imperatives
Part IV. The State of Needs: 19. The state
20. The modern state, coercion and power
21. The state as ultimate evaluator and guarantor for meeting needs
22. Need priority: practical not theoretical
23. Political participation: procedural and institutional proposals
24. Legitimacy and paternalism
25. States of needs
Conclusion: What needs to be done? The case of South Africa
Bibliography
Index.