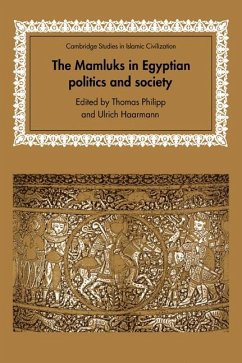 Andere Kunden interessierten sich
auch
für
Produktdetails
Cambridge Studies in Islamic Civilization
Verlag: Cambridge University Press
Seitenzahl: 324
Erscheinungstermin: 12. Dezember 2006
Englisch
Abmessung: 229mm x 152mm x 19mm
Gewicht: 486g
ISBN-13: 9780521033060
ISBN-10: 0521033063
Artikelnr.: 22580913
List of illustrations
Preface
Part I. Mamluk Rule and Succession: 1. Literary offerings: a genre of courtly literature P. M. Holt
2. Rank-and-file Mamluks versus amirs: new norms in the Mamluk military institution Amalia Levanoni
3. Mamluk amirs and their families and households Donald S. Richards
4. Joseph's law - the careers and activities of Mamluk descendants before the Ottoman conquest of Egypt Ulrich Haarmann
Part II. Mamluk Households: Coherence and Disintegration: 5. The re-emergence of the Mamluks following the Ottoman conquest Michael Winter
6. 'Mamluk households' and 'Mamluk factions' in Ottoman Egypt: a reconsideration Jane Hathaway
7. Personal loyalty and political power of the Mamluks in the eighteenth century Thomas Philipp
8. The Mamluk beylicate of Egypt in the last decades before its destruction by Muhammad 'Ali Pasha in 1811 Daniel Crecelius
Part III. Mamluk Culture, Science and Education: 9. Mamluk astronomy and the institution of the Muwaqqit David A. King
10. The Mamluks as Muslims: the military elite and the construction of Islam in medieval Egypt Jonathan P. Berkey
11. The late triumph of the Persian bow: critical voices on the Mamluk monopoly of weaponry Ulrich Haarmann
12. Concepts of history as reflected in Arabic historiographical writing in Ottoman Syria and Egypt (1517–1700) Otfried Weintritt
13. Cultural life in Mamluk households (late Ottoman period) Nelly Hanna
Part IV. Mamluk Property, Geography and Urban Society: 14. The residential districts of Cairo's elite in the Mamluk and Ottoman periods (fourteenth to eighteenth centuries) André Raymond
15. Patterns of urban patronage in Cairo: a comparison between the Mamluk and the Ottoman periods Doris Behrens-Abouseif
16. Notes on the early nazar al-khass Donald P. Little
17. Coptic festivals of the Nile: aberrations of the past? Huda Lutfi
18. Marriage in the late eighteenth-century Egypt Afaf Lutfi Al-Sayyid Marsot
Index.