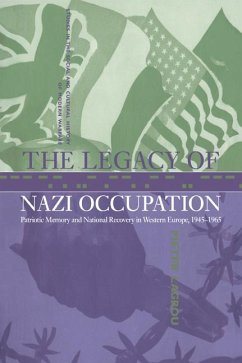 This volume, in Studies in the Social and Cultural History of Modern Warfare series, examines how France, Belgium and the Netherlands emerged from the military collapse and humiliating Nazi occupation they suffered during the Second World War. Rather than traditional armed conflict, the human consequences of Nazi policies were resistance, genocide and labour migration to Germany. Pieter Lagrou offers a genuinely comparative approach to these issues, based on extensive archival research; he underlines the divergence between ambiguous experiences of occupation and the univocal post-war patriotic narratives which followed. His book reveals striking differences in political cultures as well as close convergence in the creation of a common Western European discourse, and uncovers disturbing aspects of the aftermath of the war, including post-war antisemitism and the marginalisation of resistance veterans. Brilliantly researched and fluently written, this book will be of central interest to all scholars and students of twentieth-century European history.

Review quote:
"Drawing extensively on archival records, [Lagrou] underlines the divergence between ambiguous experiences of occupation and the univocal post-war patriotic narratives."
Reference Research Book News

"...remarkably well-researched and rigorously comparative book about the way resisters, deportees, and forced laborers were or were not incorporated into the political landscape of postwar France, Belgium, and the Netherlands. Lagrou is to be congradulated for this excellent contribution to the social history of the Second World War."
The Journal of Military History

"...well worth reading..."
Journal of Modern History

"This is a kind of closely contextualized comparative history...that historians will admire, not least for its capacity to accommodate unpredictable and even anomalous findings. Overall, the great merit of the book is that it will encourage scholars who specialize in the history of a single country to think about their subject with new and broader questions in mind. In that respect, it is a splendid vindication of the comparative method."
The International History Review

"...meticulous in its research and thoughtful in its conclusions."
Choice

"As a lean and sinewy study of the consequences of Nazi occupation, this book is spendid."
American Historical Review

Table of contents:
Introduction; Part I. Troublesome Heroes: The Post-War Treatment of Resistance Veterans: 1. Approaching victory and re-establishing the state; 2. Heroes of a nation: France and Belgium; 3. A nation of heroes: the Netherlands; Part II. Repatriating DPs from Germany: 4. Displaced populations; 5. The challenge to the post-war state: Belgium and the Netherlands; 6. Pétain's exiles and De Gaulle's deportees; Part III. The Legacy of Forced Economic Migration: 7. Labour and total war; 8. Moral panic: 'the soap, the suit and above all the Bible'; 9. Patriotic scrutiny; 10. 'Deportation': the defence of the labour conscripts; Part IV. Martyrs and Other Victims of Nazi-Persecution; 11. Plural persecutions; 12. National martyrdom; 13. National memory and the genocide; 14. Remembering the war and legitimising the post-war international order; Conclusion.