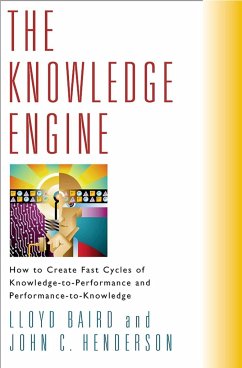 Andere Kunden interessierten sich
auch
für

In their new book, Lloyd Baird and John Henderson show how to produce knowledge as part of the work process and quickly apply that learning back to performance to create a "knowledge engine" that drives ongoing performance improvement and adds value in every area of the organization. Built on five years of research and application in leading corporations, The Knowledge Engine details a five-step knowledge-performance cycle, explaining how to:
Focus on exactly what is necessary to drive performance and create competitive advantage
Acquire knowledge you can use as you go, performing and learning simultaneously
Structure learning so that it can be shared and benefit the entire organization
Target knowledge so that the organization applies it when and where it is really needed
Reflect on the big picture the new knowledge presents, consolidate it, and identify new areas of focus
The book includes a wealth of practical tools that organizations can use to put each step of the knowledge-performance cycle into actual practice-such as an "After Action Review, " that helps explore lessons learned from performance and a "Peer Review, " that gets what others know into the performance process quickly.
The Knowledge Engine not only explains the principles of creating and leveraging knowledge as an asset that will provide competitive advantage-it gives concrete examples of how to do it right now. The authors provide extensive illustrations of how leading organizations-including BP Amoco, Xerox, the U.S. Army, Merck, and Lucent-are getting improved performance and bottom line results by creating their own "knowledge engines, " and offer a framework to help any organization implement systems and procedures for leveraging its knowledge assets.