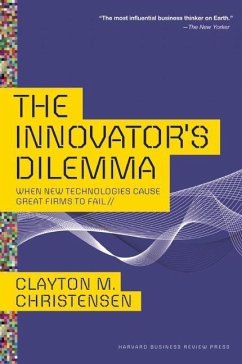 Andere Kunden interessierten sich
auch
für


An innovation classic. From Steve Jobs to Jeff Bezos, Clay Christensen's work continues to underpin today's most innovative leaders and organizations.

The bestselling classic on disruptive innovation, by renowned author Clayton M. Christensen.

His work is cited by the world's best-known thought leaders, from Steve Jobs to Malcolm Gladwell. In this classic bestsellerone of the most influential business books of all timeinnovation expert Clayton Christensen shows how even the most outstanding companies can do everything rightyet still lose market leadership.

Christensen explains why most companies miss out on new waves of innovation. No matter the industry, he says, a successful company with established products will get pushed aside unless managers know how and when to abandon traditional business practices.

Offering both successes and failures from leading companies as a guide, The Innovator's Dilemma gives you a set of rules for capitalizing on the phenomenon of disruptive innovation.

Sharp, cogent, and provocativeand consistently noted as one of the most valuable business ideas of all time The Innovator's Dilemma is the book no manager, leader, or entrepreneur should be without.

A Wall Street Journal and Businessweek bestseller. Named by Fast Company as one of the most influential leadership books in its Leadership Hall of Fame.

"His book, one of the most significant business books of the past 50 years, became a mammoth bestseller, and its title entered the language." — Fortune magazine

"Christensen's The Innovator's Dilemma is the foundational read for managing disruptive innovation." — Steve Blank, Silicon Valley serial-entrepreneur and academician, as seen in strategy+business magazine

"This is an important read, even if you're at the very early stages of growing a startup." — Drew Houston, CEO, Dropbox

Praise for The Innovator's Dilemma and Clayton M. Christensen :

Forbes
"[Clayton Christensen is] one of the most influential business theorists of the last fifty years."

The Financial Times
" The Innovator's Dilemma achieves a rare feat: It is at once a satisfying intellectual solution to a long-standing business puzzle and a practical guide for executives and investors."

Wired
". . . Required reading in Silicon Valley, where it has been championed by the likes of Steve Jobs, George Gilder, and Andy Grove."

The Huffington Post
"A seminal book."

Bloomberg Businessweek
"A holy book for entrepreneurs in Silicon Valley . . ."

Fortune
"The notion of 'disruptive technology' is one of the timeliest ideas of the Internet age. Coined by Harvard Business School professor Clayton Christensen, it's at the heart of his influential book The Innovator's Dilemma ."