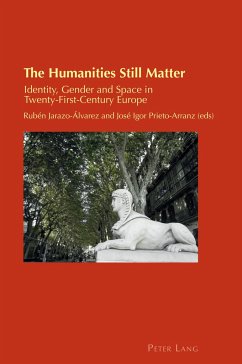 Andere Kunden interessierten sich
auch
für
Why are the arts and humanities under attack? And how can they fight back?

Historically these fields have suffered from a lack of prestige due to the utilitarian perspective of the «developed» world. While such utilitarian views have not been entirely fair on this branch of knowledge, the humanities themselves are partly to blame for this crisis, often not keeping pace with an increasingly changing society. It is therefore imperative that the humanities once and for all prove themselves relevant, leaving behind «departmentalized» approaches to academic knowledge and embracing the social mission that once epitomized humanistic study.

Guided by such principles, this book features fourteen interdisciplinary studies that explore exciting intersections between different areas of academic research. These studies centre around three broad topics, which function as this volume's structural axes: identity, gender, and space and mobility (whether voluntary, as in tourism, or imposed, as in the case of migrations and persecutions). Altogether, the volume demonstrates that the humanities, far from being artificially detached from society, can actually study the enormously complex context that is contemporary Europe and crucially point the way to a better, more equitable world.


«Fully convinced that the humanities still matter, I very warmly and whole-heartedly recommend this book. It is a vibrant defence of our cultural identity.» (Adolphe Haberer, Emeritus Professor, Université Lumière-Lyon 2)

«An exciting and thought-provoking collection of essays by European scholars working in cultural studies, which offer new approaches to how the humanities are becoming more and more interdisciplinary and globalized. This is a book which asks questions and tackles issues about some of the basic intellectual challenges of our time.» (Professor Fernando Galván, University of Alcalá)