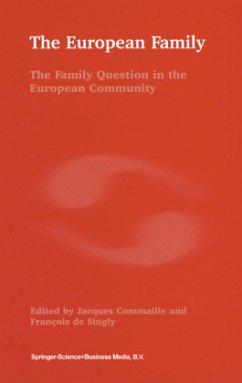 Andere Kunden interessierten sich
auch
für

However, studies of the different judicial and public policy laws in the different European Union member countries lead one to refine this first impression. The family does not have the same legal meaning in all places, and the ways in which it is defined by law and public policy continue to differ strongly, due in particular to historical factors, cultural traditions, and conceptions of the role of the State.
In order for the family to be part of the construction of a European citizenship, the pluralistic nature of its political definitions will have to be recognized.
Putting the family into the context of evolving European integration has never been done before. It was made possible in this study thanks to the joint efforts of two editors with long experience in social science studies of the family and as expert advisors to the European Commission, and by the work of the best international specialists in the field.
This is a book intended for specialists working in the social sciences, for social and government policy-makers in the fields of family and social policy, and for all those interested in European integration.
Produktdetails
Verlag: Springer / Springer Netherlands
Artikelnr. des Verlages: 978-90-481-4917-9
Softcover reprint of hardcover 1st ed. 1997
Seitenzahl: 256
Erscheinungstermin: 1. Dezember 2010
Englisch
Abmessung: 235mm x 155mm x 13mm
Gewicht: 394g
ISBN-13: 9789048149179
ISBN-10: 9048149177
Artikelnr.: 32106309
Introduction. Rules of the Comparative Method in the Family Sphere. The Meaning of Comparison; F. de Singly, J. Commaille. Policies and Behaviour. Demographic Convergence Beyond National Differences; F. Bégeot, J.A. Fernandez-Cordon. Family Law: The Continuity of National Characteristics; J. Rubellin-Devichi. The Uncertainties of Policy with Regard to the Family; W. Dumon. Sociopolitical Regulation of the Family-Work Relationship; L. Hantrais. European Welfare States in their Relation to the Family; F.-X. Kaufmann. Historical Foundations of Family Structures; A. Burguière. The European Family as Seen Elsewhere. The Australian Family as an Expression of Modernity; D. Edgar. Problems of Modernity. The Uncertainties of Family Status in the United States; K.M. Andersen. The Japanese Family between Tradition and Modernity; T. Matsukawa. Family Government: Autonomy, Dependency and Control. The Generation Question. State Solidarity Versus Family Solidarity; G.B. Sgritta. Cultural and Political Limits to the Transformation of Family Roles; U. Björnberg. The Family's Contribution to Social Reproduction: A State Concern; F. Schultheis. From Institution to Self-Regulation; V. Pocar, P. Ronfani. From `Privacy' to the Leviathan State. The Case of the Child; J. Eekelaar. Family Policy in Communist Europe as an Incitement to Passive Citizenship; S. Mezei. Conclusion. Europe: The Political Future of the Family; J. Commaille, F. de Singly.