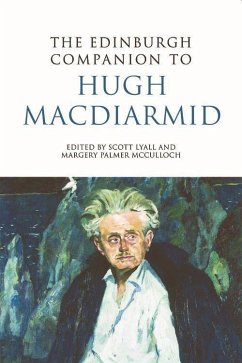 Produktdetails
Edinburgh Companions to Scotti
Verlag: EDINBURGH UNIV PR
New
Seitenzahl: 208
Altersempfehlung: ab 22 Jahre
Erscheinungstermin: Mai 2011
Englisch
Abmessung: 235mm x 163mm x 18mm
Gewicht: 470g
ISBN-13: 9780748641901
ISBN-10: 0748641904
Artikelnr.: 33872095
Series Editors' Preface
Brief Biography of Hugh MacDiarmid
Editions and Abbreviations
Introduction, Scott Lyall and Margery Palmer McCulloch
1. MacDiarmid and International Modernism, Roderick Watson
2. MacDiarmid's Language, Dorian Grieve
3. C. M. Grieve / Hugh MacDiarmid, Editor and Essayist, Alan Riach
4. Transcending the Thistle in A Drunk Man and Cencrastus, Margery Palmer McCulloch and Kirsten Matthews
5. MacDiarmid, Communism and the Poetry of Commitment, Scott Lyall
6. MacDiarmid and Ecology, Louisa Gairn
7.The Use of Science in MacDiarmid's Later Poetry, Michael H. Whitworth
8. Hugh MacDiarmid's (Un)making of the Modern Scottish Nation, Carla Sassi
9. Hugh MacDiarmid: The Impossible Persona, David Goldie
10. Transatlantic MacDiarmid, Jeffrey Skoblow
11. MacDiarmid's Ambitions, Legacy and Reputation, Margery Palmer McCulloch
Endnotes
Further Reading
Notes on Contributors
Index.