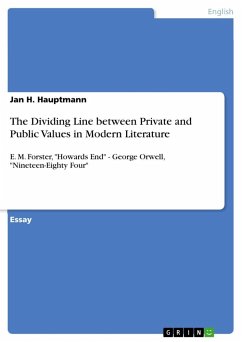 ORWELL. While FORSTER's fourth published novel Howards End was already
written in the early twentieth century (1910), ORWELL's famous dystopia
Nineteen Eighty-Four was only published in 1949 and may therefore be
considered as a late modern work.
The historical background of the two novels obviously differs to a great
extent. On the edge of the First World War, E.M. FORSTER was particularly
concerned with a disrupted society under the direct influence of the significant
changes in modern social life. The increasing forces of imperialism and
capitalism and tendencies of a growing urbanisation largely changed the lives of
people, directly affecting their private and public spheres. When ORWELL wrote
his novel under the influence of the Second World War, modern life had
additionally been shaken up by two world wars and the effects of totalitarian
systems in Europe.
Despite the historical gulf between Orwell and Forster, which makes a
direct comparison of their works impossible, this paper will concentrate on the
private and public values of the novels' characters and thus also pay attention
to probable political notions of the authors. It will particularly figure out if the two
writers either endorse or contest a dividing line between private and public
values, additionally taking into consideration formal features as well as the
overall plot.
Forster's novel Howards End predominantly deals with the interrelations
of two middle class families called the Schlegels and the Wilcoxes. Despite
belonging to the same class, their actual social background differs to a great
extent. Margaret and Helen Schlegel are initially depicted as not being English
"to the backbone", which is not only true because of their German origins, but
also because of their idealist attitude they seem to have adopted from their
father, who rather was "the countryman of Hegel and Kant, [...] the idealist,
inclined to be dreamy, whose Imperialism was the Imperialism of the air".
Idealism and anti-imperialism are obviously not to be considered as being very
English any more, but rather seem to have died out all over modern Europe.
Produktdetails
Akademische Schriftenreihe V118355
Verlag: GRIN Verlag
4. Aufl.
Seitenzahl: 16
Erscheinungstermin: 19. November 2008
Englisch
Abmessung: 210mm x 148mm x 1mm
Gewicht: 40g
ISBN-13: 9783640215218
ISBN-10: 3640215214
Artikelnr.: 25551044