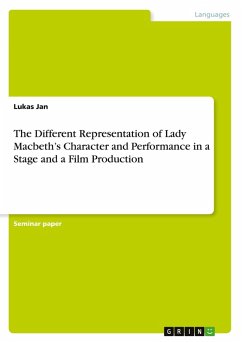 In the United States, the role of the First Lady is more important than anywhere else. During the election campaign, she supports and encourages her husband and also assists him in the presidency. Edith Wilson, for example, substituted for her husband Woodrow Wilson when he was ill in 1919, and adopted the executive power of the U.S. government. The reason Smith and Cook compare Mrs. Wilson and other First Ladies with Lady Macbeth is not arbitrary. Already in the original of Shakespeare's The Tragedy of Macbeth, first performed in 1606, he represented Lady Macbeth as a very strong and influential woman and wife with a special firmness of character.

The popularity of the character and the tragedy itself brought forth many different productions and adaptations. There are a lot of ways to understand, interpret and implement Shakespeare's tragedies into movies and stage productions. Each production pursues its own concept in staging and how the story shall be presented. Therefore, the production company chooses a director and cast who can opine their conception in the best way. Hence they have the difficult and honourable task to implement this distinguished piece of work into a film or theatre production.

Marion Cotillard and Samantha Spiro, who were both cast for a Macbeth production, are two completely different actresses in their mannerism, look and acting style, but the companies thought that they were perfectly suited for the role of Lady Macbeth and so they had the difficult task to play her. Marion Cotillard had already received many awards for her acting and became a very popular Hollywood actress during the final years. She played Lady Macbeth opposite Michael Fassbender in the 2015 film production by Justin Kurzel. Samantha Spiro played Lady Macbeth at the Globe theatre in London in 2013. This production was the directorial debut of Eve Best.
Produktdetails
Verlag: GRIN Verlag
Seitenzahl: 20
Erscheinungstermin: 13. April 2018
Englisch
Abmessung: 210mm x 148mm x 1mm
Gewicht: 44g
ISBN-13: 9783668676664
ISBN-10: 3668676666
Artikelnr.: 52394836