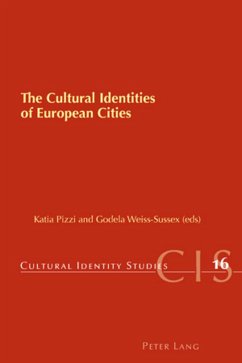 Andere Kunden interessierten sich
auch
für

Themes that run through the essays include: nostalgia for a grander past; location between Eastern and Western ideologies, religions and cultures; and the fluidity and palimpsest quality of city identity.
Not only does the book provide different thematic angles and a variety of approaches to the investigation of city identity, it also emphasizes the importance of diverse cultural components. The essays presented here discuss cultural forms as various as music, architecture, literature, journalism, philosophy, television, film, myths, urban planning and the naming of streets.
Produktdetails
Cultural Identity Studies .16
Artikelnr. des Verlages: 11930
Neuausg.
Seitenzahl: 252
Erscheinungstermin: 10. November 2010
Englisch
Abmessung: 225mm x 150mm x 13mm
Gewicht: 360g
ISBN-13: 9783039119301
ISBN-10: 3039119303
Artikelnr.: 32450115
Contents: Katia Pizzi/Godela Weiss-Sussex: Introduction - Martin Liebscher: Vienna: The Narcissistic Insult - Katia Pizzi: Trieste: A Dissident Port - Nagihan Haliloglu: Istanbul Criteria: The Construction of a City Identity - Nevena Dakovic: Imagining Belgrade: The Cultural / Cinematic Identity of a City at the Fringes of Europe - Peter Burke: Myths of Venice - Iain Fenlon: Sounding the City: Music, Monteverdi and Mantuan City Identity - Adrian Rifkin: Bayreuth, World City? Or: The Provincial Village as Global Denkmal ... - Stephen Brockmann: Nuremberg and Its Memories - Godela Weiss-Sussex: Berlin: Myth and Memorialization - Michael Sheringham: Paris - City of Names: Toponymic Trajectories and Mutable Identities - Paul Melo E Castro: Lisbon on Screen: Aspects of Portugal's Capital in Portuguese Cinema - Guido Rings: Madrid: Neo-colonial Spacing in Contemporary Spanish Cinema?