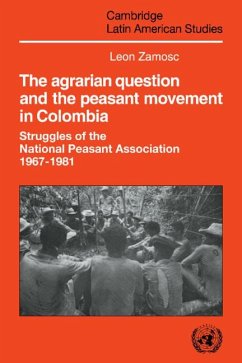 Table of contents:
List of tables, figures and maps; Foreword Teodor Shanin; Foreword UNRISD; Acknowledgments; List of abbreviations; Introduction; 1. The agrarian question in Colombia; 2. Reformism and the beginnings of the peasant movement; 3. The radicalization of ANUC and the great waves of land invasions; 4. Counterreform; 5. The contradictory influences of peasant politicization; 6. Concessions and repressive escalation; 7. The new occupational alternatives and the issue of the rural proletariat; 8. Partial repeasantization and the question of the new peasant settlements; 9. Final crisis and clientelist regression of ANUC; 10. Overview and final remarks; Notes; Bibliography; Index.

In this book, Leon Zamosc provides an account of the history of ANUC and its struggle on three main fronts: for land, for the defence of the colonists, and for the protection of smallholders. He also offers some suggestions about the significance of ANUC's struggles for the understanding of peasant movements in general.

A history of the peasant movement ANUC and its land struggles.