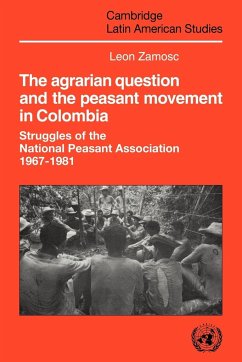 Andere Kunden interessierten sich
auch
für


In this book, Leon Zamosc provides an account of the history of ANUC and its struggle on three main fronts: for land, for the defence of the colonists, and for the protection of smallholders. The main focus of the book is on the land struggles. Professor Zamosc adopts a structural perspective, examining the agrarian contradictions that propelled the peasant struggles, the changing relationship between the peasant movement and the state, and the political and ideological content of the peasant challenge. He explores these issues in the light of the shifting patterns of class alignments and antagonisms that marked the rise and decline of peasant radicalism during the 1970s, and offers some suggestions about the significance of ANUC's struggles for the understanding of peasant movements in general.

Review quote:
"...a very fine study of the peasant movement of the 1970s in Colombia. It is an outstanding work, both for its empirical detail and theoretical sophistication."
Professor Eric R. Wolf, City University of New York

Table of contents:
List of tables, figures and maps; Foreword Teodor Shanin; Foreword by UNRISD; Acknowledgments; List of abbreviations; Introduction; 1. The agrarian question in Colombia; 2. Reformism and the beginnings of the peasant movement; 3. The radicalization of ANUC and the great waves of land invasions; 4. Counterreform; 5. The contradictory influences of peasant politicization; 6. Concessions and repressive escalation; 7. The new occupational alternatives and the issue of the rural proletariat; 8. Partial repeasantization and the question of the new peasant settlements; 9. Final crisis and clientelist regression of ANUC; 10. Overview and final remarks; Notes; Bibliography; Index.