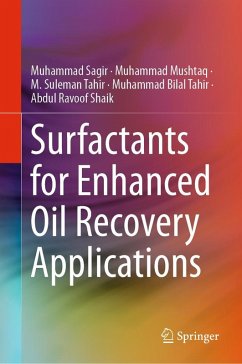 Andere Kunden interessierten sich
auch
für

The authors discuss carbon dioxide EOR, alkaline-surfactant-polymer flooding strategies, and the use of surfactants as a means of reducing interfacial tension, while also paying special attention to the challenges involved in using surfactants for enhanced oil recovery, such as the difficult issue of surfactant adsorption on reservoir rock. All chapters highlight and are based on the authors' own laboratory-scale case studies.
Given its content, the book offers a valuable asset for graduate students of petroleum and chemical engineering, as well as researchers in the field of chemical enhanced oil recovery. It will also be of interest to professionals involved in enhanced industrial oil recovery.

Produktdetails
Artikelnr. des Verlages: 978-3-030-18784-2
1st ed. 2020
Seitenzahl: 144
Erscheinungstermin: 30. Januar 2020
Englisch
Abmessung: 241mm x 160mm x 14mm
Gewicht: 370g
ISBN-13: 9783030187842
ISBN-10: 3030187845
Artikelnr.: 55852218
Surfactants.- Surfactants in Petroleum Industry.- Surfactants as Foaming Agents.- Surfactants as Emulsification Agents for IFT Reduction.- CO2 Philic Surfactants and Switchable Amine-based Surfactants for Foam Applications.- Modeling of Surfactant Flooding in Porous Medium.- Challenges and Future Trends in Surfactant EOR.