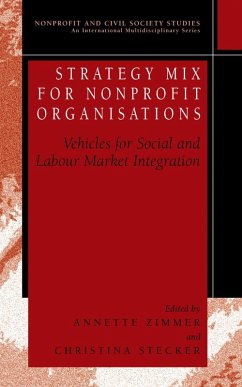 Andere Kunden interessierten sich
auch
für


Strategy Mix for Nonprofit Organizations: Vehicles for Social and Labor Market Integration explores the role of the third sector in Europe, where unemployment is high and in North America, where unemployment is rising and exploring the "gaps" that the third sector is fulfilling: both as a social service and as an employer.

The volume is organized into two distinctive parts. Part 1: The Nonprofit-Sector and Social Integration highlights the embeddedness of the sector in selected countries; it discusses how the sector is currently affected by changes of public policy particularly in the traditional social-democratic welfare state regimes, and it draws our attention to the sector's potentials to provide avenues for social integration, self-actualization and civic empowerment.

Part 2: Labor Concepts and Market Integration refers to the multifunctionality of third sector organizations discussing potentials of workplace as well as community involvement via nonprofit organizations.

This seminal volume will be of interest to those in the nonprofit sector, organizational management and economics, political scientists and other researchers working with nonprofit organizations and civil society studies on an international level.