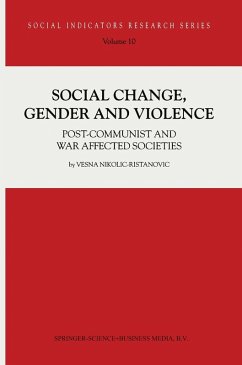 Andere Kunden interessierten sich
auch
für
Social change, Gender and Violence is the book which explores the impact of transition from communism and war on everyday life of women and men, as well as the way how everyday life and gender related changes affect women's vulnerability to domestic violence and trafficking in women. The book also explores the impact of micro level changes on development of civil society, women's movement, and legal and policy changes regarding violence against women. This is a unique book, which tries to look at violence against women as connected to oppression of both women and men. It argues that violence against women in post-communist and war affected societies is significantly connected to the increase of social stratification, economic hardship, unemployment, instability, uncertainty and related social stresses, changes in gender identity and structural inequalities brought by new world order. Using largely accounts of more than hundred interviewed people, the author shows vividly how, in post-communist societies, the contradictions of capitalism are interlaced with the mostly negative relics of communism. Moreover, the book shows how contradictory processes in post-communist societies have led to a rather paradoxical result: political pluralism and a capitalist economic system generated both violence against women and a women's movement, albeit not the conditions for a reduction of violence.
Produktdetails
Social Indicators Research Series 10
Verlag: Springer / Springer Netherlands
Artikelnr. des Verlages: 978-90-481-6063-1
Softcover reprint of the original 1st ed. 2002
Seitenzahl: 220
Erscheinungstermin: 7. Dezember 2010
Englisch
Abmessung: 235mm x 155mm x 12mm
Gewicht: 341g
ISBN-13: 9789048160631
ISBN-10: 9048160634
Artikelnr.: 32012539
Preface; J.E. Turpin. Acknowledgements. Introduction. 1. Social Change and War in Post-Communist Society. 2. Like a Mirror Image. 3. Gender in Transition. 4. Domestic Violence. 5. Sex Trafficking in Women. 6. Civil Society, Feminism and Institutional Changes. Conclusion. References. Index.