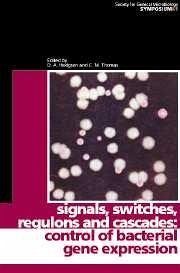 Table of contents:
Editor's preface; 1. Microbial reaction to environment: bacterial stress responses revisited in the genomic-proteomic era F. C. Neidhardt; 2. Gene variation and gene regulation in bacterial pathogenesis D. Hood and R. Moxon; 3. DNA topology and regulation of bacterial gene expression C. J. Dorman; DNA rearrangements and regulation of gene expression I. C. Blomfield; 4. Structures of multisubunit DNA-dependent RNA polymerases R. D. Finn, E. V. Orlova, M. van Heel and M. Buck; 5. The ECF sigma factors of Streptomyces coelicolor A3(2) M. S. B. Paget, H-J. Hong, M. Bibb and M. J. Buttner; 6. Secrets of bacterial transcription initiation taught by the Escherichia coli FNR protein D. Browning, D. Lee, J. Green and S. Busby; 7. What can be learned from the LacR family of Escherichia coli? B. Muller-Hill; 8. Regulation of the L-arabinose operon in Escherichia coli R. Schleif; 9. Transcription termination control in bacteria T. M. Henkin; 10. Antisense RNAs in programmed cell death K. Gerdes; 11. Control of signal transduction in the sporulation phosphorelay J. A. Hoch; 12. A stranglehold on a transcriptional activator by its partner regulatory protein - the case of the NifL-NifA two-component regulatory system R. Dixon; 13. Is anybody here? Cooperative bacterial gene regulation via peptide signals between Gram-positive bacteria D. A. Morrison; 14. Quorum sensing in Gram-negative bacteria: global regulons controlled by cell-density-dependent chemical signalling N. A. Whitehead, A. K. P. Harris, P. Williams and G. P. C. Salmond; Index.

DNA sequencing, the use of microarrays, and proteomics, will transform our ability to describe bacterial genes and patterns of gene expression. This book discusses current knowledge of the regulatory systems that govern gene expression, providing potential means of controlling bacteria clinically, and exploiting them industrially, or environmentally, in the future.

Discussion of current knowledge of the regulatory systems that govern bacterial gene expression.