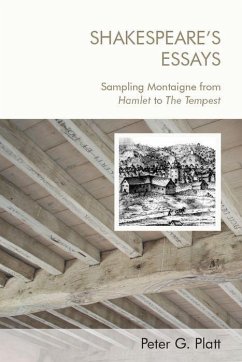 Andere Kunden interessierten sich
auch
für
Produktdetails
Verlag: Edinburgh University Press
Seitenzahl: 208
Erscheinungstermin: 15. September 2020
Englisch
Abmessung: 239mm x 163mm x 18mm
Gewicht: 462g
ISBN-13: 9781474463409
ISBN-10: 1474463401
Artikelnr.: 59511812
1. Introduction: "Were my mind settled, I would not essay but resolve myself"
2. Chapter One: Knowing and Being in Montaigne and Shakespeare
3. Chapter Two: "A Little Thing Doth Divert and Turn Us": Fictions, Mourning, and Playing in "Of Diverting or Diversion" and Hamlet
4. Chapter Three: Mingled Yarns and Hybrid Worlds: "We Taste Nothing Purely," Measure for Measure, and All's Well That Ends Well
5. Chapter Four: "We are Both Father and Mother together in this Generation": Physical and Intellectual Creations in "Of the Affection of Fathers to Their Children" and King Lear
6. Chapter Five: Custom, Otherness, and the Fictions of Mastery: "Of the Caniballes" and The Tempest
7. Epilogue: Shakespeare before the Essays
Works Cited
Index.