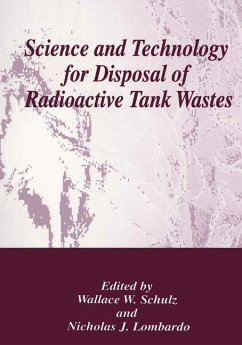 Produktdetails
Verlag: Springer, Berlin
1998
Seitenzahl: 548
Erscheinungstermin: 31. August 1998
Englisch
Abmessung: 260mm x 183mm x 34mm
Gewicht: 1252g
ISBN-13: 9780306459047
ISBN-10: 0306459043
Artikelnr.: 22298104
Disposal Strategies and Technology Needs: Overview of U.S. Radioactive Tank Problem; T.L. Stewart, et al. Science Needs for Tank Waste Remediation; J.P. LaFemina. Tanks Focus Area: Technology Program to Meet DOE's Tank Waste Clean-Up Needs; T.M. Brouns, et al. Characterization and Retrieval: Comparisons of Historical Process Estimates with Tank Waste Assays; S.F. Agnew. A Risk and Outcome Based Strategy for Justifying Characterization to Resolve Tank Waste Safety Issues; S.D. Colson, et al. Tank Waste Pretreatment Processes: Solids Control in Sludge Pretreatment; E.C. Beahm et al. Enhanced Sludge Washing for Pretreating Hanford Tank Sludges; G.J. Lumetta, et al. Tank Waste Immobilization Processes and Experience: Startup of Savannah River's Defense Waste Processing Facility to Produce Radioactive Glass; W.M. Bennett, H.H. Elder. Grout and Vitrification Formula Development for Immobilization of Hazardous Radioactive Tank Sludges at ORNL; T.M. Gilliam, R.D. Spence. Process Control and Monitoring Technology: Detecting 137 Cs Breakthrough in an Ion Exchange Process; R.L. Brodzinski, et al. Comparative Testing of Slurry Monitors; T.D. Hylton, et al. 29 Additional Articles. Index.