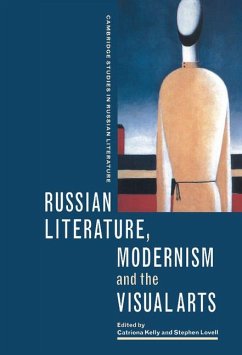 Andere Kunden interessierten sich
auch
für


Table of contents:
Introduction: boundaries of the spectacular Catriona Kelly and Stephen Lovell; Part I. The Arts Reflected in Literature: 1. Defining the face: observations on Dostoevskii's creative processes Konstantin Barsht; 2. Painting and autobiography: Anna Prismatova's Pesok and Anna Akhmatova's Epicheskie motivy; 3. Picture windows: the art of Andrei Siniavskii Jane Grayson; 4. Mikhail Zoshchenko's shadow operas Alexander Zholkovsky; Part II. Adaptations, Collaborations, Disputes and Rapprochements: Russian Literature, Visual Arts, and Performance: 5. 'Theatricality' as a concept in the Russian modernist movement; 6. Design on drama: Chekhov and Simov Cynthia Marsh; Khlebnikov eye Robin Milner-Gulland; 8. Cinematic literature and literary cinema: Olesha, Room and the search for a new art form Milena Michalski; 9. Meaningful voids: facelessness in Platov and Malevich Andrew Wachtel; 10. Painted mirrors: landscape and self-representation in women's verbal and visual art Pamela Chester; Bibliography.

In the Russian modernist era, literature threw itself open to influences from other art forms, particularly the visual arts. This collection of essays by leading British, American and Russian scholars draws on a rich variety of material to demonstrate the creative power of Russian culture 'on the boundaries' between genres.

An account of the interplay between literary and visual culture in the Russian modernist era.